Best Gucci Cologne For Men
Choosing the right cologne is no simple feat. From scent families and seasonalities, to classics versus trends, there is much to consider when selecting your personal fragrance. And let's be honest: today's world of social distancing and sanitization has only complicated the task.
Standing in front of a sample wall fumbling between your mask, the communal coffee bean jar that's meant to cleanse your smell pallet, and being the twentieth guy that day to handle each individual bottle of cologne that holds the potential to be "the one," is a heck of a lot of COVID-unfriendly work. 
I'm pleased to be writing to you today to let you know that you can skip the trip to the department store, because QMan has done the work for you. In this article, we're cutting right to the chase by rounding up the best Gucci colognes for men.
Why Gucci, you ask? It's a trusted, classic name that holds a wide range of scents, and therefore, selection.
From Gucci Envy for Men to Gucci Guilty Intense, and everything in between, you can count on the world-renowned brand to have you smelling like a man who's ready to take on the world… and not like a prepubescent boy on his way to his first middle school dance.
The 100-year-old Gucci fashion house has reigned supreme as the pinnacle of exuberant glamor for as long as many of us can remember. Despite Gucci's humble beginnings as an Italian craftsman who created leather goods for horsemen, the brand found its way to luxury stardom by way of luggage and handbags — and by the 1970s, personal fragrance.
As one of the world's oldest and most relevant Italian fashion brands, Gucci has become synonymous with wealth, status, and confidence. And thanks to the work of the Gucci's former Creative Director Tom Ford, it also carries a heavy injection of glamor and sensuality.
For decades, Gucci has been a coveted name that not only screams exclusivity, but also truly delivers on its hype. With Gucci cologne for men, you can trust that you're getting a quality fragrance that you will be proud to announce when you're inevitably asked the question, "You smell great, what are you wearing?"
Without further ado, let's get into it: QMan's top picks for the best Gucci cologne for men.
The 5 Best Gucci Cologne for Men Options
Gucci Guilty Black is the perfect scent to grab for a night out on the town during the late fall and winter season. There's something about it that is equally as comforting as it is rich.
This dark and mysterious fragrance packs an immediate punch with lux green coriander and lavender, and is supported at its center by orange blossom, neroli and green notes. At its base is a familiar yet intriguing mixture of cedar and patchouli.
Despite Gucci Guilty Black offering a deep, rich fragrance, its longevity is weaker in comparison to other colognes. So, if you're a man who really wants his scent to be memorable and leading, reapplying after two to three hours is recommended.
Guilty Pour Homme Eau de Toilette
When you see this matte black bottle, you'll know you've found one of the top contenders for the best Gucci cologne for men, and arguably, among the best in Gucci's guilty line.
Gucci Guilty Pour Homme Eau de Toilette strikes an intriguing balance of dark and sweet, with premium notes of fresh rose accord and hot chilli pepper. This wildly popular fragrance's heart notes include orange blossom absolute, blended with neroli and French lavender. At its base, you'll find notes of  patchouli and cedar wood, which provide a blend of sensuality and mystery, with a dry down providing a lasting impact of masculine richness.
Gucci Guilty Pour Homme Eau de Toilette is popular for a reason. It strikes a unique balance of power and approachability, which allows you to make bold a statement without being overbearing.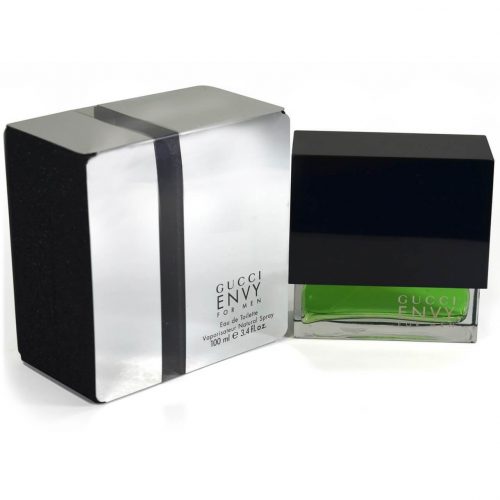 The 90s are back in a big way, and Gucci Envy for Men is no exception. While some may say this fragrance smells dated, for others, it provides an element of nostalgia that will transport you back to a simpler, lighter time that is mirrored in the fragrance.
Unlike Gucci Guilty Black and Gucci Guilty Pour Homme, Gucci Envy provides an aroma of masculine florals with notes including an immediate pop of ginger, smoky vanilla, incense, cardamom and lavender.
Because Gucci Envy has been discontinued, its price is often considered to be inflated, but for those who absolutely love this scent, each now exclusive drop is worth the accompanying price tag.
Guilty Absolute Eau de Parfum
Alright fellas, this one dials up the intensity on power and masculinity. So, unless you're someone who really likes to commit to your fragrance, this isn't for you.
If you're looking for a fragrance that matches you in boldness and strength, however, read on.
Gucci Guilty Absolute opens with the scent of leather – a nod to Gucci's century-old beginnings – followed by scents of rich wood and patchouli.
When this cologne dries down, however, it lightens up with notes of cypress and golden wood, offering a broader spectrum of scents while still retaining its vigor.
Unlike the previously mentioned fragrances among our conductors for the best Gucci cologne for men, Gucci Guilty is long-lasting, and is unlikely to require reapplication.
While the intensity of this fragrance won't be for everyone, it is one that has amassed a strong following that many men absolutely swear by.
Guilty Intense Eau De Toilette
Last but not least in our quest to name the best Gucci cologne for men, is Gucci Guilty Intense.
This cologne is a friendly and sought-after balance of sophistication and approachability, with top notes of lavender, amalfi lemon and coriander, and heart notes of African orange flower and a hint of neroli. Driving it home are base notes of the always addictive patchouli, coupled with amber and cedar wood.
Gucci Guilty Intense is charismatic and floral, while still being overtly masculine and powerful. Its a solid and versatile fragrance that would work just as well for office wear (if policy allows) as it would for a night out on the town.
And there you have it, QMan's round up of the best Gucci cologne for men.
An honorable mention not included on this list but still worth noting is Gucci Made to Measure. This fragrance features top notes of calabrian bergamot, French lavender and anise seed, a mix of Sri Lankan nutmeg, juniper berry, water lily, plum and cinnamon at its heart, and has base notes of cysts labdanum, patchouli, leather and amber.
If this article has deepened your interest in finding your perfect scent, check our QMan's selection of the 10 Best Men's Colognes, where you'll find our top picks from outside the House of Gucci.
While fragrance is a deeply personal choice, many consider the Gucci Guilty line to be home to the brand's top contenders, with Gucci Guilty Pour Homme taking the crown. If you're someone who is seeking something that is boldly masculine and strong, however, we recommend you check out Gucci Guilty Absolute.
While each Gucci cologne for men leads with its own unique top notes, they often hold a common theme of comforting heart notes at the center, such as orange blossom, vanilla and lavender,  and masculine base notes such as patchouli and wood. These blends offer a balanced, rich infusion that signal an air sophistication, luxury and mystery.
You can purchase Gucci cologne for men at most major department stores, as well as many destinations online. For your convenience, we have offered links throughout this article which will not only navigate you to trusted destinations where you can purchase Gucci cologne for men, but will also provide QMan with small commissions on purchases, allowing us to continue bringing you the great kind of content you're looking for.