The Best Travel Pillow Options for Every Excursion
We're all excited to get back to traveling now that pandemic-era restrictions across the globe are beginning to ease, but no one looks forward to a sore neck. Luckily, there are more high-quality travel pillows on the market than ever that were designed to solve and prevent that exact problem. Whether you'll be booking a red-eye flight or a sustainable-but-super-long train ride, you'll need something to support you through your travel naps. 
Whether it's on a plane, train, or automobile, attempting to get good sleep while getting from point A to point B can feel impossible at times. You might have a headache from a screaming baby or a stomach ache from that pesky motion sickness, but with QMan's list of the best travel pillow options in 2022, you can rest assured that you'll at least escape a crick in your neck.
Pains, Strains & Automobiles: What to Look For
Gone are the days of balled-up sweaters and strangers' shoulders (yikes)! I know many of us used to think travel pillows were dorky things only older people used, but we're here to tell you that they're all the rage. Do you really want to be the only person on your trip without a snazzy travel pillow? We're guessing no. Plus, there are so many stylish options to choose from these days. 
From special features, to luxury materials, to unique shapes, we're confident there's a travel pillow that'll meet all your needs. Depending on the type of travel and your preferred sleeping positions, you'll need to carefully consider what to look for as you shop. If you don't know where to begin, our list of the best travel pillows is sure to set you on the right track.
The 10 Best Travel Pillows in 2022
Travelrest Ultimate Travel Pillow
This neck pillow is unique in that it can be strapped to your seat or worn like a messenger bag, making it one of the best travel neck pillows for any form of transportation. Easy to pack, access, and store, this Travelrest model rolls up quickly and can attach to your luggage while still being sturdy enough to provide ultimate support to your upper body. Its adjustable ergonomic design allows for portable and compact comfort for your head and neck. 
With a two-year warranty and an optional velour memory foam cover sold separately, this travel accessory will stand up well against the wear and tear that comes with long-term use, which makes it a great option for those who are constantly on the go. Inflatable, washable, and versatile, this is an obvious pick for someone looking for something simple.
Ostrichpillow Light Versatile Pillow
This Ostrichpillow is both light and versatile, meaning it can be worn both around your neck or as an eye mask. If your regular pillow is too bulky and awkward, it might be time to switch brands. This is one of the best travel pillows to wear while on transportation itself, while waiting in the airport, or in any number of situations that may arise throughout your travels. It even comes with an integrated fit adjuster that allows you to customize it to the individual and make it work for you. 
Best of all, this pillow features a coated microbead filling, providing a different feel than your typical inflatable model. It's also fully reversible, which means you can choose between two colors according to your outfit of the day. Who thought a travel pillow could be stylish? This one is sure to keep your head from falling and your fashion from failing.
According to Trtl, the amount of support provided by their travel pillow is scientifically proven to protect from discomfort in the neck and shoulders. Smaller than most U-shaped travel pillows, this model is machine washable and only weighs half a pound. You can even tailor it to the specific positions you like to sleep in, as it can be worn across the front of the neck to support your chin, or on either side to rest your head. One of the features that puts this close to the top of the best travel pillows list is that it can be adjusted to fit any face, body shape, and sleeping position, providing individualized support to any user.
Cabeau Evolution Classic Memory Foam Travel Neck Pillow
With 360-degree head, neck, and chin support, this award-winning 100% polyester model from Cabeau is certainly one of the best travel pillows out there. If you're struggling with sleeping upright in an airplane seat or anywhere else, the Evolution pillow will help you fall asleep in no time. If the inflatable, microbead, or down pillows aren't for you, memory foam might just be the knight in shining armor that saves you from a terrible night (or flight) of sleep. 
It also includes a removable cover you can wash regularly to prevent the build up of germs and unwanted odors, as well as a built-in media pouch that fits most phones, so you won't have to worry about dropping yours while you get some much needed shut-eye.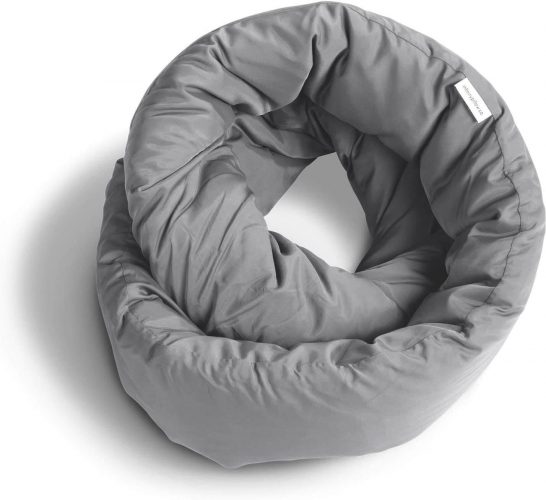 The Huzi Infinity Pillow's bamboo fabric is a godsend. Not only is it extremely soft and comfortable to push your head against, but its special material is extra airy. According to the brand, its thousands of layers of cool, crisp microfiber balance temperature and are three times more breathable than cotton, so you can wave goodbye to sweaty post-nap feeling. It's also extremely versatile in that you can use it in many positions to support various parts of the body at home or in the office in addition to travel. Keep your sleep dry and hygienic with this high-quality option.
AirComfy Ease Inflatable Travel Pillow
Subtle yet luxurious, this inflatable travel pillow can attach to headrests, making it one of the least fussy options on the market today. The elastic band allows you to secure it and forget it for a relaxing sleep session with no slipping or sliding. Ideal for both airplane and car travel, this pillow is lightweight and allows for stress-free travel thanks to its carry bag that you can clip onto your luggage. While this pillow certainly supports your neck, it can also be used behind your lower back for lumbar support on longer trips when you might start to feel achy. It also features adjustable inflation for those you prefer their pillows extra soft or extra firm.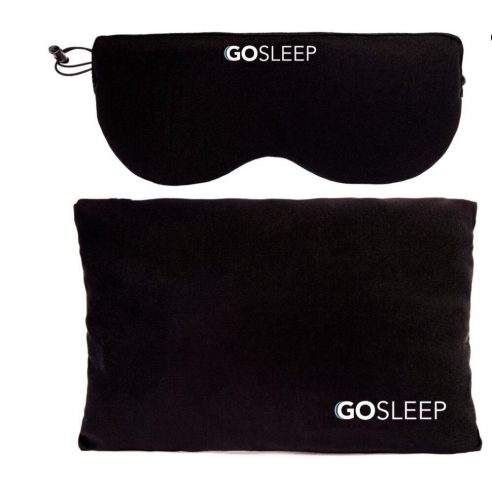 Made in the USA from rayon, nylon, and spandex, GOSLEEP claims that their travel pillow uses a different "system" than most. Rather than wrapping it around your neck, users place this pillow behind their neck and place the sleep mask over their eyes. The adjustable elastic cord then wraps around the back of your headrest to keep your head from falling forward. If you get sore from improper alignment, this is the travel pillow for you. No head bobbing, no awkward positions, and no bright lights getting through the mask will ensure a seamless sleep. If you're someone who needs an eye mask to get by, this supportive travel pillow is your best bet.
J-Pillow Chin Supporting Travel Pillow
This J-Pillow model actually won British Invention of The Year about a decade ago, but it's still as good as ever. Offering a flawless combination of chin, neck, and head support, this pillow's unique shape beats out a ton of its competition. Designed by a former flight attendant, the J-Pillow's three-way support system prevents flare-ups of stiff and sore muscles in all common problem areas. If this travel pillow is good enough for the British Invention Society, it's definitely good enough to accompany you on your next trip.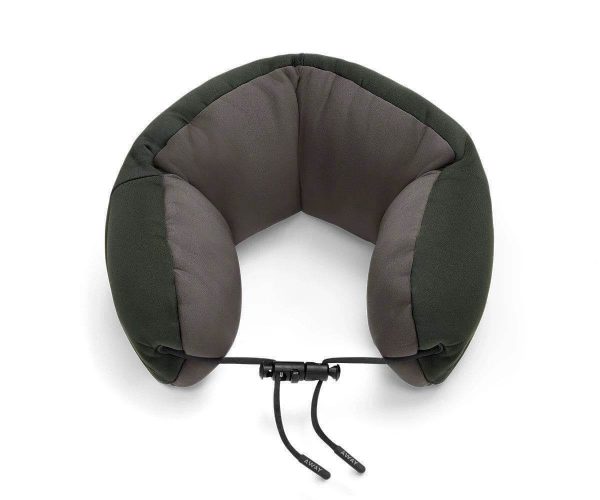 Away is well known for their high-tech luggage, but their travel pillow game is just as strong. This model in particular was constructed with a foam core interior and quilted padding for ultimate comfort. Versatile and easily adjustable, this neck pillow can also connect to the Away Travel Blanket for the perfect snoozing experience. As if that wasn't cool enough, this pillow's fabric features 37.5 thermoregulating technology that adjusts to your body temperature to cool you off or warm you up depending on your needs. Most importantly, the Travel Neck Pillow has an antimicrobial finish that keeps it feeling, looking, and smelling clean and fresh. If that doesn't cut it, it's still machine washable!
Made from 100% pure memory foam, the MLVOC Travel Pillow comes in an Airplane Travel Kit that includes 3D contoured eye masks, earplugs, and a luxury carry bag that can compress it to half its size, so you'll be completely set from the start without having to purchase any additional items. The pillow also features an adjustable rope lock to modify its size as needed. Sweat-resistant and washable, this model is covered in magnetic therapy cloth and filled with millions of microbeads, making it both practical and luxurious.
Most travel pillows are designed in a U-shape that wraps around the back of your neck to prevent your head from bobbing to either side. However, many of the pillows on the market today have unique shapes that also offer front support for your chin or require you to use them in different ways, so the best way to use a travel pillow will differ depending on your selection.
Typically, travel pillows are designed to be fairly compact to allow for easy access, storage, and transportability throughout your travels. Even if you opt for a larger pillow, they usually fold up or squish down so you don't have to walk around with anything too cumbersome.
There are tons of travel pillows available for purchase anywhere luggage is sold, as well as online, both from retailers like Amazon or specialized, modern travel brands. The place you purchase your travel pillow from will usually depend on what budget, level of luxury, or special features you're looking for.