The Best Affordable Watches: Excellent Quality at a Low Price
Luxury watch marketing is everywhere. From Instagram ads to red carpet interviews, it's hard not to want the best of the best, but sometimes the best isn't within our budget. 
If you're not ready to splurge on a luxury watch, but you also don't want to resort to something cheap and inefficient, you might feel stuck when it comes to finding the perfect wristwatch for you.
Purchasing a good quality, good-looking watch in the $100-$200 range can feel impossible, but with a little help from your friends here at QMan, you'll be guided to your timepiece soulmate in no time. Here are our picks for the best affordable watches in 2021. Believe it or not, none of the following have a price tag over $300!
Watches for the everyday man
We all know that the watches worn by the likes of Don Draper and Harvey Specter aren't exactly under $200. In fact, most luxury watches on the market can reach upwards of $10,000. While that's quite the swanky number, it's not exactly in reach for most guys out there. Luckily, just because you can't afford a Rolex doesn't mean you have to resort to a piece of junk.
The best thing about the booming watch market is that there are more stylish and high-quality watches available at affordable prices than ever before. You don't have to compromise—there are tons of unique and reliable models for sale for under $200, and even notable options under $100. Before you give up and head to the bargain bin, consider treating yourself to one of the best affordable watches we've listed here.
The 8 Best Affordable Watches
Orient Men's Mako II Japanese Automatic Diving Watch
A Japanese automatic dive watch at an affordable price? Sign us up! This Mako II model from Orient is a sleek, stainless steel watch that is sure to blow you away. It features a unidirectional 120-click bezel, mineral crystal, and is water resistant up to 200 meters, making it a perfect option for those engaging in any marine activity or water sports. The Orient Mako has been the most popular series from the brand since the mid-2000s, as it is one of the best affordable watches available today.
Orient Men's 2nd Gen. Bambino Japanese Automatic Dress Watch
The 2nd Generation Bambino is another fantastic, affordable dress watch from Orient. Using Japanese automatic movement, this watch is sporty yet elegant. Its domed dial features roman numeral markers and is complemented by its domed mineral crystal. The leather band gives this wristwatch a classic feel that makes it the perfect addition to a dressy outfit. 
With a high-quality stainless steel case, metallic details on the face, and bright blue hands, this timepiece is one of the best looking options at this price point. Perfect for gifting to a man in your life (or to yourself!), the 2nd Generation Bambino won't disappoint.
Bulova Men's Classic 96C125
Founded in New York City by Joseph Bulova in 1875, the Bulova brand name is still known today for their high-quality, affordable watches. The contrast of the stainless steel case and bracelet against its rich, blue dial gives this watch a sporty yet classy look. 
With quartz movement, scratch-resistant domed mineral crystal, silver toned hands and markers, and day/date feature, this model has everything you could want and more from a watch at this price.
Fossil Men's The Minimalist Slim Casual Quartz Watch
Fossil is a great brand when it comes to the best affordable watches. Available in most malls and department stores, Fossil watches are sold with an air of luxury but at a low cost. This model in particular is especially fashionable. 
The perfect combination of vintage and modern, The Minimalist is a retro-style quartz movement watch with a black stainless steel case and a brown, genuine-leather band. With a three-hand display, hardened mineral crystal, and up to 100 meters of water-resistance, this reliable and durable watch is a great option. Customizable and clean, this timepiece is not to be missed.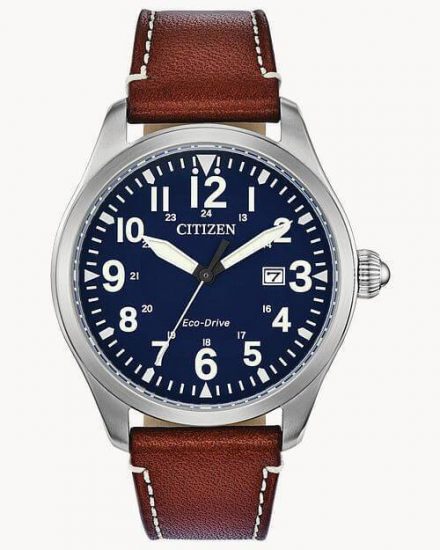 This Citizen wristwatch is definitely one of the coolest and best-looking watches within this price range. It features a distressed brown strap, stainless steel case, and a unique blue dial that is truly the star of the show. It is adorned with a number of eye-catching chronographs including a 1/5 second one measuring up to 60 minutes and a 12/24 hour time and date. In addition, this timepiece also feature luminous hands and markers, as well as a shatter-resistant mineral crystal. 
The most unique part of this watch, however, is that it is powered entirely by the brand's Eco-Drive technology, which means it never needs a battery. It only requires light (from any light source, not just the sun) to run. How neat is that? Chic and sustainable all in one. We couldn't ask for anything else.
Mondaine Official Swiss Railways EVO2 Big Date
Contemporary and comfortable, this Mondaine watch is evidently Swiss. From feel to function, it screams quality. Its ergonomic design is seamless and sleek as it has been pared down significantly. With refined case lugs and a new-and-improved crown, this model is as aesthetically pleasing as it is technically flawless. It has scratch-resistant sapphire crystal, brushed stainless steel, and quartz movement. What more could you need?
Breda Lizard Embossed Virgil
The Lizard Embossed Virgil watch from Breda originated as an exclusive style developed with GQ for their Best Stuff Box. As you might've guessed, this model is sophisticated and fashion-forward thanks to its 18k gold-plated rectangle case and black genuine-leather band that features the lizard pattern. Slender and minimalist, this timepiece will add a vintage feel to any look. Most importantly, it runs on Japanese quartz movement, so you know things will be smooth-sailing in every regard.
Tommy Hilfiger Dress Watch with Blue Croc Leather Strap
This is another one of the watches in this price range that looks more expensive than it really is. This dress watch from Tommy Hilfiger isn't your basic timepiece. With its gold stainless steel case, deep blue dial, and matching faux crocodile leather strap, this wristwatch is anything but boring. 
If you're a fan of sub-dials on the face of your watch, there certainly isn't a shortage of them here. Along with the three prominent sub-dials, the dial also features a window of exposed gears that will definitely warrant a double-take.
Frequently Asked
Questions
When it comes down to it, you get what you pay for. Not all watches are expensive, but the highest-quality watches are.
Luxury watches are highly priced due to their fancy materials and the craftsmanship that goes into them. They also have a reputation as a status symbol which has been kept up for decades. The more exclusive, the more expensive.
On the lower end of the spectrum, brands like Orient, Citizen, and Seiko are well known for making inexpensive yet high-quality watches.
However, there are cheaper options from brands like Casio and Timex, and more expensive options from brands like Hamilton, Tissot, or Michael Kors. You have to consider what you're looking for in terms of style and price and shop accordingly.
Most of the best affordable watches for men can be purchased online directly from any of the brands who offer them, such as Citizen, for example.
However, you can purchase affordable watches anywhere from Amazon, to a mall, to a department store. Generally, less expensive watches tend to be pretty accessible, so you shouldn't run into any issues.