The Best Digital Watches For Any Occasion
While there's a lot of charm, elegance, and nostalgia in analog watches, there are still a ton of high quality, luxury digital watches out there. Whether you're looking for something more casual, are tired of reading an analog clock, or are looking for a watch that does more than just tell time, a digital watch is probably your best bet.
Let's face it, more and more people are turning towards smart or at least digital options for most of their needs, and watches are no different. Why buy a watch you need to wind when you could simply…not? If your train of thinking is along these same lines, it's probably time for you to purchase a digital watch. But what if you can't bring yourself to buy something as expensive as an Apple watch? 
Here at QMan we've taken the time to compile a list of some of the best digital watches. Think outside the Fitbit box and get shopping!
What to Look For in a Digital Watch
When many of us think digital watches, we think of something clunky and outdated that maybe a math teacher owned, or of the incessant hourly beeping throughout high school classrooms across the nation. While digital watches haven't always given us the best impression, we shouldn't ixnay the entire category as a whole.
Many of the best digital watches today look and function a lot more like smart devices than like the not-so-stylish ones we may or may not have sported in middle school. If you're interested in all the functions a digital watch provides, but you're looking for something a little more grown-up appropriate, look no further. They may not do everything your smartphone does, but they sure do a heck of a lot, and they look good while doing it.
Some things to keep in mind when searching for the perfect digital watch are battery life, durability, and legibility. If you can't read your watch, or if it breaks or runs out of juice, what's the point in even having one? Looking out for fancy features is also key. In 2021, there are lots of new specialized functions that might benefit you in your daily life that you didn't even know about. Without further ado, let's take a look at some of the best digital watches for men.
The 6 Best Digital Watches in 2022
As one of the newer G-Shock models, this digital watch from Casio has everything you love about the brand's tough look with none of the bulk. With mineral glass and a super thin case and resin band, this a fairly sleek and subtle option when it comes to digital watches. This quartz model also features a backlight and flash alert, as well as a multi-function alarm, 1/100-second stopwatch, and a countdown timer. Most importantly, it's shock-resistant, has up to 200 meters of water-resistance, and has up to two years of battery life, so you can count on it when you need it most.
Casio G-Shock Move GBD-H1000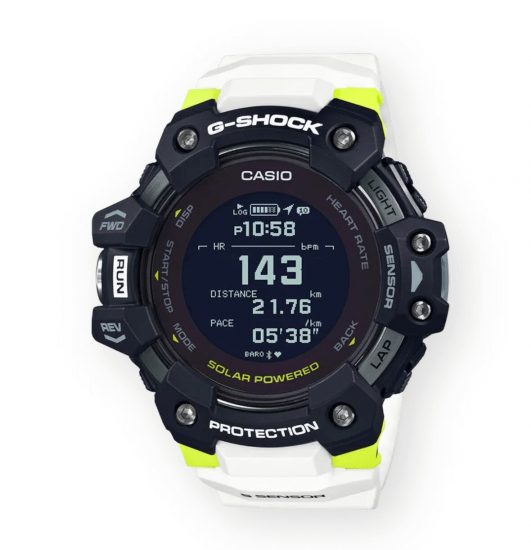 This Casio watch is a little funkier in appearance, but that's because it's built for the gym, not for the office. If you're an athlete or fitness junkie looking to take your training to the next level, this digital quartz watch will be a helpful tool. Measuring at 55mm, this watch's case is huge, making it super easy to read while on the move or at a glance during an intense workout. 
Crafted from resin and black stainless steel, the case is shock-resistant and complemented perfectly by its white polyurethane band and neon yellow detailing. Some of its useful features include Bluetooth capabilities, a heart rate monitor, GPS, temperature sensors, a stopwatch, and an accelerometer for counting steps. It also allows you to have access to apps that track information that's useful to runners, such as distance, speed, pace, and a VO2 max value. With a hi-def display and both USB and solar-charging options, this digital watch is sure to support you through any kind of workout, no matter the intensity.
Nixon Regulus Stainless Steel Watch
This digital watch has more of a retro look to it. Though the Regulus SS from Nixon feels like something you'd see in an 80s movie, it's actually very high-tech and extremely durable. Not only is it shock-absorbent, element-proof, and waterproof up to 100 meters, but it was actually designed with input from U.S. Special Operations personnel, so you know it's legit.
It also features dual chronographs on an oversized LED backlight display, a silent mode option, and a double-locking clasp. With a five-year battery life, this comfortable digital watch is a long-lasting and trusted option.
Hamilton Khaki Flight Timer Watch
The Khaki Flight Timer watch from Hamilton is actually a digital and analog hybrid, making it the perfect choice for someone who wants to move to a digital watch but is hesitant to let go of the analog feel. Perched in a stainless steel case with a matching bracelet, this quartz model does not look like a digital watch at first glance. 
Complete with a rotating bezel around a black dial covered by scratch-resistant sapphire crystal; luminous skeleton hands; and minute markers, the Khaki Flight Timer surprises us with its two digital sub-dials that can display timezones, alarms, countdowns, flight time, and more. If you're big on travel or find yourself spending a lot of time on planes, this is a great, casual companion for your next trip.
Casio Pro Trek Pathfinder Watch
If you're looking for something a little more basic, rugged, and heavy-duty, the Casio Pro Trek is the ideal choice for you. Altimeter, thermometer, compass… there's nothing this thing doesn't do. From sunrise and sunset data and world time, to alarms, a stopwatch, and a countdown timer, this digital watch will meet your needs in virtually any situation imaginable.
The Pro Trek also features a backlight, up to 100 meters of water resistance, and an integrated solar panel that charges its battery, so no need to worry about forgetting a charger at home. Can't say that about Apple watches, now can you?
Timex Expedition Classic Digital Watch
Small and unassuming, this digital watch from Timex is still one of the best digital watches you can get for under $100. Its case is a black resin and it has an acrylic lens covering its Day-Glo / Indiglo digital display. Its adjustable black fabric strap features leather accents to spruce things up a bit, and its functions are no joke.
This model includes a 100-hour chronograph with lap and split times, a 24-hour countdown timer, a calendar, and multiple alarms. It can also display 24-hour military time and two different time zones. Durable and long-lasting (no, seriously, it has a 10-year battery life), this watch is built to withstand your next venture into the wild without looking like it's something you found out there.
It's important to follow the instructions that come with the specific model you own as setting directions can vary greatly, however, most digital watches can be set using the "mode" button, if they have one. This button can be used to change the time and date.
Digital watches work the same way most other quartz watches work. Essentially, when the battery is running, it vibrates quartz crystals inside the watch. The battery sends an electric current to the quartz crystal.
These vibrations are turned into pulses that are displayed as numbers on the screen. One second is counted every 32,768 vibrations, which is pretty neat!
The first digital watch, the Hamilton Pulsar digital wristwatch, was invented by George W. Theiss in the 1970s. Theiss was also the founder of the Hamilton Watch Company.