The Best Durable Watches To Handle Any Situation
What's the point in investing in a new watch if it's just going to break or get scuffed up right away? One of the most important qualities we've grown to expect from luxury watches is durability. Whether you're an adventurous kind of guy or just someone who wants to make sure they're buying something that will be long-lasting, it's important to consider things like case types, metals, and other factors that go into making the best durable watches.
Interestingly enough, a lot of the most durable watches aren't necessarily the most expensive. A lot of the really expensive precious metals are actually some of the most fragile. So, what is there to do if you want a timepiece that looks good but stays reliable? 
Well, to help you in your search through some the most popular tough and rugged watches, we here at QMan have compiled a list of some of the best durable watches on the market. Say goodbye to scratches and malfunctions and hello to your new stylish and sturdy wristwatch!
A Guide to Watch Durability
From military men to outdoorsy fellows, there are many people in need of watches that can withstand the harshest conditions. Maybe you're not a Navy SEAL or out hiking Everest, but a modern man still needs a watch that will survive his busy day-to-day.
There are many iconic watch brands that have come to be known for their superior durability. Casio's G-Shock is one of the most notable examples, but there is certainly no shortage of heavy-duty options on the market.
Some key words to look for when shopping for a watch that can take a beating are "shock-resistant," "scratch-resistant," "water-resistant," and "weather-resistant." When a watch offers those kinds of features, it usually means you can drop your watch or expose it to extreme conditions without worrying about permanent damage—or any damage, for that matter.
If you're into the idea of a rugged watch in terms of toughness, but you aren't really feeling a bulky exterior, there are still tons of models that look more refined, so you can wear a sturdy watch regardless of your lifestyle. Read on to discover some of the best durable watches that are the best of both worlds.
The Best Durable Watches in 2021
Casio Men's G-Shock Classic
As we mentioned before, this classic Casio G-Shock model is basically Nokia-level indestructible. This Japanese quartz movement watch has a number of regular functions, such as a multi-function alarm, 1/100 second stopwatch, countdown timer, hourly time signal, calendar, back-light, and both 12 and 24-hour formats. 
What makes the G-Shock so special, however, is its well-renowned 20-bar water resistance as well as its anti-impact and anti-vibration shock-resistant construction. Casio is known for manufacturing watches that are trusted by everyone from water-sport enthusiasts to law enforcement officers, and this G-Shock is the peak example of that. It's a watch built to make it through whatever situation you present it with.
Victorinox I.N.O.X. Titanium
The Victorinox I.N.O.X. Titanium is definitely an eye-catcher. With a blue rubber strap and matching second hand, this Swiss quartz movement wristwatch definitely stands out from the crowd. Made from titanium; hypoallergenic stainless steel; and scratch-resistant, triple-coated, sandblasted sapphire crystal, there's nothing this watch can't handle. 
Not only does this model offer up to 200 meters of water resistance, but it can also survive a 10-meter fall and being run over by a 64-ton tank. As if that wasn't enough, it also features a removable protective bumper and a magnified, anti-reflective face that encases luminescent hands and hour markers for optimal visibility day or night.
Casio Pro Trek Triple Sensor Tough Solar
This Casio model from the Pro-Trek Triple Sensor Tough Solar collection has a supremely unique design. Named for its tough solar caliber and triple sensor motion, this watch sounds complicated but is in fact extremely smooth-running. Rugged and sturdy, yet sleek and modern, this black watch is analog and digital all in one. Easy-to-use, this simple watch is certainly one of the best durable watches out there. It offers the no-fuss dial and luminescent hands that are often sought after in a watch, but also features a special sub-dial chronograph and tachymeter markings. Its extra protective case and bezel are constructed from a combination of resin and stainless steel, so, like with many Casio watches, you can rest easy knowing you're in good hands.
Garmin Instinct Rugged GPS Watch
What if you want durable, but you also want something that's a little more with the times? Lucky for you, this Garmin model is one of the best durable smartwatches available. Literally named "Rugged", this GPS watch is actually built to meet the U.S. military standards on thermal, shock, and water resistance. Its case is made from fiber-reinforced polymer, and its smart display is protected by a chemically-strengthened, scratch-resistant layer. 
What's extra nice about this model is that the band is made from fully vented silicone, which means it won't get sweaty when you're out on your next adventure or getting active. In addition, this smartwatch also features a built-in 3-axis compass, a barometric altimeter, and multiple global navigation systems—GPS, GLONASS, and Galileo. Plus, like with most smartwatches, this one also allows you to monitor your heart rate and activity. With a battery life of up to 40 hours depending on your settings, this is sure to be a watch you can count on.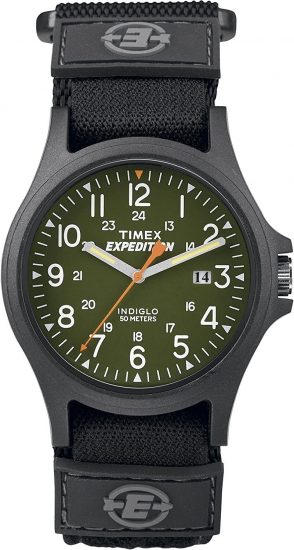 Timex Men's Expedition Acadia
This Expedition Acadia watch from Timex often tops a number of best watch lists, but its resin case, acrylic lens, and adjustable nylon strap certify its place as one of the best durable watches on the market. This military-inspired timepiece is water-resistant up to 50 meters and features Timex's Indiglo light-up technology, as well as luminous hands, a date window at 3 o'clock, and a Velcro fastener on the strap.
While it's not the fanciest watch available and may not be your first choice for attending a black-tie event or heading to an important work meeting, its definitely a solid bet to have as your trusted companion on camping trips, during light water sports, or any other hands-on activities you have in mind.
Casio G-Shock Rangeman Multi Band 6
This wouldn't be a "best durable men's watches" article without another Casio G-Shock on the list, now would it? This Rangeman Multi Band 6 quartz model is definitely bulky. Its outsides are very thick and rough, which don't exactly make for the most stunning or luxurious looking watch in terms of aesthetics. However, its tough exterior is certainly representative of the durability of its parts.
Its resin strap and case as well as its scratch-resistant mineral crystal are super helpful in preventing any damage to your watch. As another digital and analog hybrid watch, this model has auto LED luminescence and features hours, minutes, seconds, date, and day-of-the-week displays. Both functional and durable, the G-Shock never fails to support your various needs.
Breitling 1884 Emergency DLC-Coated Titanium
This titanium Emergency watch from Breitling is marketed as "the world's first wristwatch equipped with an authentic dual-frequency distress beacon". Yeah, you heard us. This essentially means that if you ever find yourself in a dire situation out in the wild, the distress beacon will notify and guide rescue operations via an alert signal once it's activated. If you're a climber or thru-hiker who's often faced with the possibility of dangerous situations out in the middle of nowhere, this might be the perfect watch for you.
Constructed specifically as a safety tool, it would be a shame if it wasn't durable. Obviously, this watch is made from DLC-coated titanium, which you can pair with either a matching titanium bracelet or a more comfortable rubber strap. It also features a rechargeable battery, a miniature transmitter, and its own original integrated antenna system. Plus, 5 bar water resistance. In case you thought we forgot about that behind all the other cool stuff.
The newest Apple Watch, the Series 7, is actually the most durable watch Apple has released yet. Its screen is available in both glass and sapphire crystal this time around, making it more scratch-resistant and shatter-proof than ever
This Apple model is also dust-resistant and has a WR50 water-resistance rating. Typically the cases are available in aluminum, stainless steel, or titanium, so we recommend going with titanium if you're looking for top-level durability.
While ceramic is super scratch-resistant, more so than other durable materials like titanium, it is unfortunately very susceptible to other common damages. Because it's more brittle than many other materials, ceramic can easily shatter if dropped from a high enough distance.
The Casio G-Shock is certainly one of the best durable watches available on the market today. Apart from that, there are several other brands that produce their watches with durability in mind, such as Garmin, Luminox, Citizen, and Victorinox. Victorinox, specifically, is also the brand that created Swiss Army Knives, so they have been frontrunners in terms of durable, outdoorsy survival tools for a long time.