10 Best Running Watches for Men: Tracking & Training
Nutrition, training, sneakers, sweats… athletes have enough on their minds already. Trying to keep track of stats on your own is just one more thing to worry about. That's where neat gadgets come in! Namely, running watches.
Today, the best smartwatches out there have become high-tech enough to have you feeling like a secret agent or the star of a sci-fi flick. But many of them now also feature running-specific features that will make your life as a runner a whole lot easier. Gone are the days of notepads and a heap of random apps and timers. Some of the best running watches for men include things like GPS technology, heart rate monitors and more to help you get to peak performance and stay on top of your fitness progress.
So, how do you decide which one is the right fit for you? There are many things to consider when purchasing a smartwatch, such as battery life, compatibility with your phone, and what features are a must-have for your running goals. There is definitely no shortage of running watches on the market these days, but that's where we come in! Here's our guide to help you purchase the perfect running watch for your fitness needs.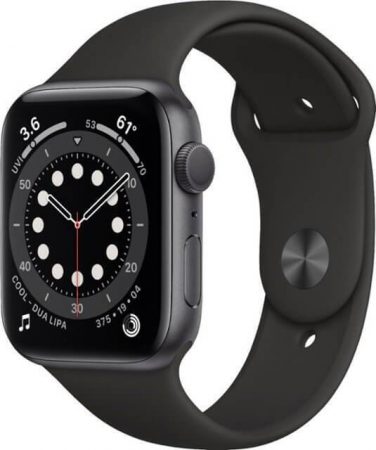 Apple Watches have always tended to fall at the top of the list when it comes to the best running watches—and for a good reason! The Apple Watch Series 6 is arguably the most high-tech running watch on the market today. It's been lauded for its cool features like testing blood oxygen levels and running ECGs, but it's other health-friendly properties certify its place among the best running watches for men. These include things like sleep-tracking technology, a screen that's always on and is 2.5 times brighter to ensure outdoor visibility, and even an altimeter that factors in uphill and downhill motion. You'll never struggle with your stats again as it provides you with a seamless workout.
It's also guaranteed to keep you motivated for your runs thanks to its built-in audio connection features so you can jog to your favorite songs or podcasts. If that doesn't pump you up enough, the Apple Watch also allows you to connect with friends and share your activity, or even start challenges with each other, taking the concept of "running buddies" to a whole new level.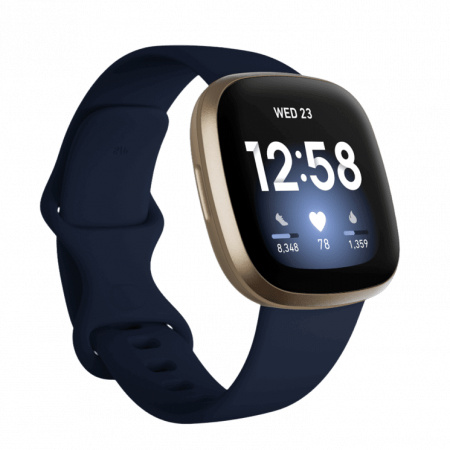 The Fitbit is also an incredibly well-known option when it comes to the best running watches for men because of its simple, user-friendly interface and its fitness-centered features. The Fitbit Versa 3, to be specific, is a great option for runners. Not only does it charge fast and offer more than six days of battery life per charge (which will save you from unexpectedly running out of juice mid-workout), but it also has a built-in GPS to map your runs. It can even monitor your pulse to help you reach your optimal target heart-rate zone. One of the most unique aspects of the Fitbit is that it also lets you use it hands-free by controlling it with a voice assistant, so you don't have to put your runs on pause to check your stats, the weather, or anything else!
Samsung Galaxy Watch Active2
If Apple's got a running watch, that means Samsung has to, too! However, the Galaxy Watch Active2 is anything but a copycat. Featuring an extra-large screen, a touch bezel, and comfortable, practical bands that are fit for any athlete, this watch is a great choice for runners. It's also extremely customizable, so you can match it perfectly to the rest of your athleisure-wear.  While it offers all the basics you'd expect from a regular fitness smartwatch and can connect to several third-party fitness apps, the most unique part of this running watch is its built-in running coach—a virtual assistant that gives you feedback on your runs while you're at it! It can even be charged wirelessly. No extra cables needed!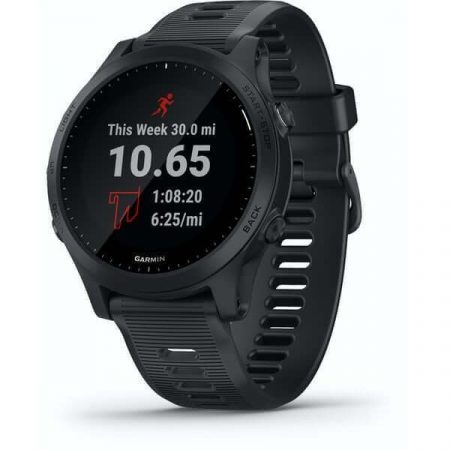 If you're familiar with the world of smartwatches made for fitness, chances are you've heard of Garmin. This brand doesn't mess around when it comes to the best running watches for men. Their Forerunner series a pricey option, but its wide variety of functions make it entirely worthy of the investment. This smartwatch isn't just for fitness lovers in general—it was made for runners and triathletes specifically. When it comes to performance metrics, safety, and run-mapping, the Forerunner is hard to beat. While its battery life is a little shorter than that of its competitors while in GPS mode, it offers a sleek, lightweight design with its silicone band, and even features Garmin Coach training plans, and Garmin Pay for on-the-go contactless payments.
The Sport Smartwatches from Fossil are some of the more distinct running watches out there. With their colorful bands and multiple crowns, these are sure to stand out and add some flare to your athletic getup. Paired with Google Fit and Google Pay, this watch allows you to leave both your phone and your wallet at home for ultimate freedom. Google's Wear OS technology allows you to access your stats, music, and everything else faster than ever, and a helpful Google Assistant is your partner-in-crime for all your health coach requirements. Take a break from your run and check your social media notifications, or even dive in for a swim thanks to this watch's waterproofing! Compatible with iPhones and Androids alike, all is possible with this bad boy from Fossil.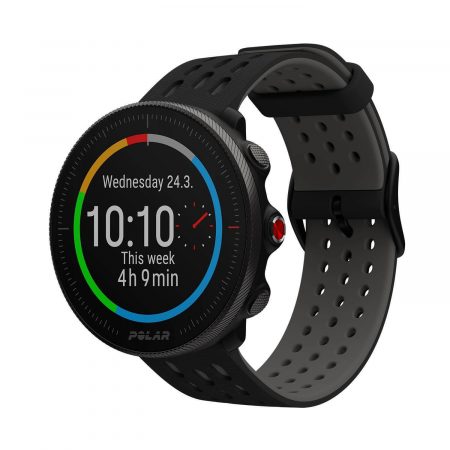 This GPS smartwatch from Polar is made for a variety of athletic endeavors but is nonetheless super effective and useful for runners. Despite its low-key aesthetic, this little number still packs a punch. With the various functions offered by this one, you can stay in touch with friends and family, track your running and recovery data, and work towards being the best runner you can be with personalized workouts—all while wearing a really good-looking watch. One of the most unique features offered by this Polar running watch is their FuelWise technology that tells you when and what to drink and eat to keep your energy levels up and your runs… running smoothly. Best of all, they offer sustainable bands made from recycled PET yarn, as well as polyester and elastane bands for those with latex allergies. With Polar, there's an option for everyone!
The Suunto 7 is no joke. Priced at a little over $500, this running watch supports you both on a run and in your day-to-day life. Suunto's self-titled "Versatile Sports Experience" combined with a sleep hygiene tracker, a variety of health insights, and Google's Wear OS system will cover all your bases whether you're mid-sprint or mid-nap. How awesome is being able to check your to-do list or view incoming messages while on a run? Not only is this smartwatch shockproof and dirtproof, but it also has up to 50 meters of water resistance, which makes it perfect for a run in any type of condition—rain or shine (or mud)! It can even measure your stress levels to ensure you're on top of your health in every category.
Montblanc Summit 2 Titanium Sport Edition
This gadget from Montblanc is definitely a luxury running watch. Undeniably one of the more expensive options of the market today, ringing in at around $1,100, it is as visually appealing as it is functional. If you're the kind of guy that appreciates the intricacies of fine watchmaking, but requires the latest in fitness watch technology for your runs, the Summit 2 Titanium Sport Edition is your happy medium. This Montblanc smartwatch offers some of the more advanced features compared to its counterparts, including a titanium cap with a rotating crown; scratch-resistant sapphire crystal; a diamond-patterned rubber strap and adjustable folding clasp; an altimeter, accelerometer, and gyroscope; Bluetooth and Wi-Fi connectivity; GPS; and pay-by-touch technology. This is a guaranteed high-quality choice for anyone looking for a versatile, long-lasting, elevated running watch.
Advertised as the lightest GPS sport watch on the market, the Pace 2 smartwatch from Coros weighs no more than 29g, making it the ultimate running watch in terms of build. While the original Coros Pace is also a solid option, this upgrade was built with a 1.5 times more powerful processing system and offers four times more storage space. Coros's digital dial is very user-friendly and lends you a hand in accessing the important stuff faster, so you can get back to your run ASAP. With 30 hours of battery life, you could even bring this one into the wild for a weekend-long hike. Aside from the usual (sleep tracking, monitoring your heart rate, and measuring your steps), the Pace 2 also has a Night Mode feature that keeps the backlight on permanently for your late-night running sessions. Even on the darkest night or earliest morning, you won't miss a thing!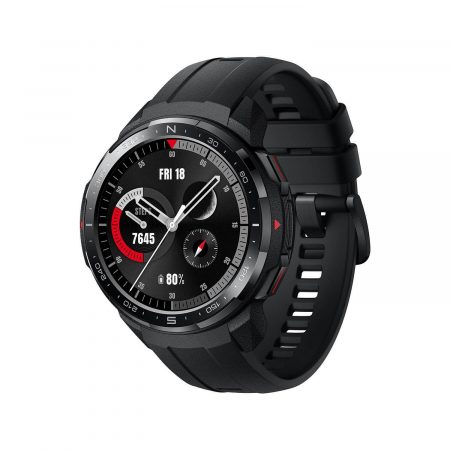 This is a watch that was made for the wild. Whether you're a city guy or a mountain explorer, this watch was build to last and serve your every need. As if a 25-day battery life wasn't enough, the GS Pro can also survive in extreme temperatures—both high and low. Hot and cold are no match for this tough watch, and neither are solar radiation, dirt, shock, water, altitude, or pressure changes. It's basically indestructible. While most running watches today have a GPS feature, this Honor watch offers dual satellite navigation systems to help guide your run even when you're in the middle of nowhere. It also keeps you in the loop so that you're not caught off guard by sunset, sunrise, or bad weather. All this, and still provides all the running and health metrics you could ever want in a smartwatch. Not bad, huh?
Running Watch Comparison Chart
Phone Notifications to Unit?
All of the aforementioned running watches are impressive devices, and any one of them would make a fantastic addition to your activewear get-up, so the perfect choice really comes down the details. Prices vary, so deciding on your budget is a great place to start to narrow down the list, as is considering battery life. Then, think about your running routine. What watch capabilities do you really want? You might, for example, really want contactless pay and music storage. Or, if you're a really serious runner, maybe you want running dynamics and route creation.
If you realize that you really want your running watch to do ALL the things, (and if money is no object), you really can't go wrong with the Garmin Forerunner 945. Garmin knows running, so you can be assured that the Forerunner will include all of those little details you didn't even know you wanted. No need to feel bad about splurging — an investment in your health is never a bad idea!