Best Watch Brands for Men: Your Ultimate Guide
Watches do more than tell the time, they tell stories. Every watch brand has its own unique history: some have ties to royalty, the sports world, or have been featured on the silver screen. We've reviewed the best watch brands and their prestigious pasts – arming you with everything you need to know before selecting a wristwatch.
Tag Heuer: Swiss Perfection
Established in 1860 by Swiss watchmaker Edouard Heuer, Tag Heuer remained in the family as it grew significantly over the next century. The brand gained recognition for its innovative designs, including precision timing, and released the world's first automatic chronographs in the 1960s: the Autavia, Heuer Carrera, and Monaco models. The Monaco was most notably worn by actor Steve McQueen and is still one of the high-end watch brand's most popular pieces.
The company changed ownership in the late '80s and continued evolving into the luxury brand many are familiar with today. Tag Heuer has distinguished itself from other brands by assimilating original designs with today's technology. The line has also made a name for itself in the sports world and the classic chronograph models have been featured on the wrists of many well-known athletes including Cristiano Ronaldo, Derek Jeter, Tom Brady, and Tiger Woods.
The Submariner is still one of the most popular and stylish Rolex watches
Rolex: Success on Your Wrist
This prestigious watch company needs no introduction, its wristwatches are handmade, stylish, and timeless — for many (even globally), owning a Rolex is a hallmark of success. Rolex moved from London to Geneva Switzerland in the 1920s and immediately became a pioneer in the world of Swiss watchmaking, registering over 500 patents throughout its tenure. Amongst its inventions is the first waterproof watch as well as the first dive watch, the Submariner.
The Submariner made its debut as the first official James Bond watch in 1962's Dr. No — when Sean Connery famously wore the watch during his portrayal of Bond. Rolex was widely associated with the 007 franchise for many decades (and Bonds) to follow. The Submariner is still one of the most popular and stylish Rolex watches — has been seen on the wrists of everyone from George Clooney and Jason Statham, to President Barak Obama.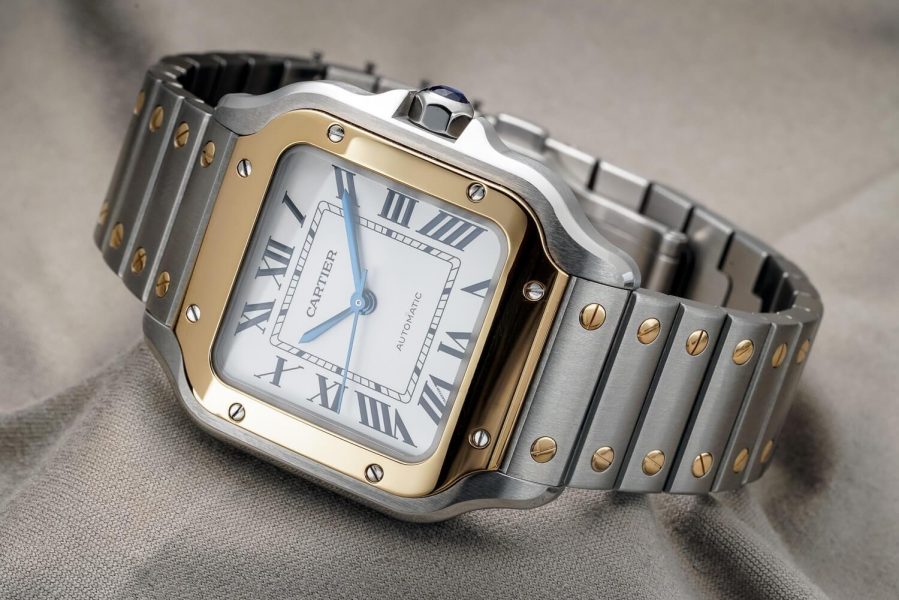 Cartier has a long-established history and is known for being the jeweler of the Royals, Celebrities, and some of the world's wealthiest families. The Parisian jewelry line has been around since 1847 but didn't release its first wristwatch until 1904.
The Santos-Dumont watch makes our list of best watch brands because of its timeless appeal and interesting history. Louis Cartier designed the timepiece specifically for its namesake, aviation pioneer Albert Santos-Dumont, to use while flying. The watch has maintained its classic geometric shape and features visible screws (one of Cartier's signature aesthetics). Over the years, the Santos watch has been spotted on various celebrities including Jake Gyllenhaal, Tom Cruise, as well as Prince Charles.
Casio: A Shocking Innovation
Casio is a Japan-based electronics company that manufactures everything from calculators and cash registers to, you've got it, watches. The company has made a name for itself in the horological world with its shock-resistant watches, and it would be impossible to discuss the best watch brands without including it. While it may not be the most luxurious watch manufacturer featured on our list, its signature G-Shock watch has an interesting and innovative history.
The "indestructible" watch was designed by engineer Kikuo Ibe in 1984 after he was inspired by the breakage of his own sentimental watch. Ultimately the G-shock has evolved into one of the toughest watches and its ability to withstand a multitude of elements. The shock-resistant, water-resistant sports watch looks good too — it has sported by many famous men including John Mayer, Spike Lee, and even Prince Harry.
Citizen: Putting the Environment First
This Japanese watch company is on a mission to "cultivate positive change" and it is reflected in Citizen's Eco-Drive technology.  Eco-Drive converts light (artificial or natural) into power to operate the watch. This environmentally friendly method decreases the need for batteries, which ultimately end up in landfills and pollute the earth.
The Promaster Diver is one of Citizen's most popular watches and is perfect for the adventurous man — it's waterproof (up to 200 meters), shock resistant, and has a stainless-steel case and band. Brad Pitt wore a Citizen Chronograph when he played stuntman Cliff Booth on Once Upon A Time In Hollywood.
Hamilton: A Slice of Americana(ish)
Hamilton Watches originated in the late 1800s as an American Watch company. Although, the watches are now manufactured out of Switzerland the brand has stayed true to its "American Spirit" with its movie, military, and aviation-inspired designs.
Additionally, the watch brand has quite a history on the big screen and has been featured on the wrists of many leading men: Elvis Presley wore the Hamilton Ventura in Blue Hawaii, John Krasinski wore Hamilton Khaki when he played Jack Ryan, and Mathew McConaughey also sported a Khaki during his role in Interstellar.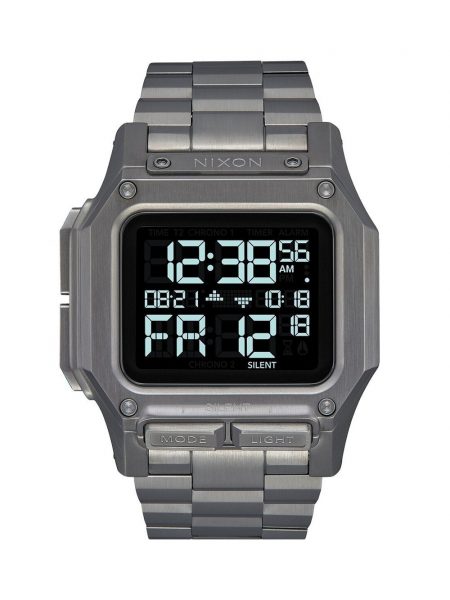 This American watch brand was started in Encinitas California in the late 90s and has since expanded internationally. Nixon was originally created to be sold in surf shops, so it's no surprise the watch line is popular amongst surfers and beachgoers. Nixon watches have been proudly worn by many surfers over the past few decades including WSL Pro John John Florence.
Nixon has many fun and unique designs, for example, the Dork Too Watch has a cool rectangular case and yells the time to you with a simple press of a button. If you are looking for something a little kitschy the brand also offers a variety of watch styles including different classic, digital, and chronograph models.
Omega: Over the Moon for this Timepiece
This Swiss watch company has been around since 1848 and has many historic claims to fame including being the first watch on the moon. The luxury watch manufacturer rivals Rolex and Tag Heuer when it comes to design and popularity. Omega has also become the James Bond watch of the 21st century and has been featured as Daniel Craig's (Bond) timepiece in the last three 007 movies. 
The Omega Sea Master Diver is a perfect example of the Swiss watchmakers' capability: it's elegant, functional, water-resistant (300M), and made with stainless steel and scratch-resistant sapphire crystal. Additionally, this model was the watch of choice for Bond in Casino Royale.
Tissot: Big Baller Energy
Tissot was the creator of the world's first non-magnetic wristwatch and has continued down the path of innovation ever since. The Swiss-based watch brand is also no stranger to the professional sports world. Tissot sped into racing in 1958 and has been a staple and sponsor of various racecar drivers ever since.
In recent years, the sports watch brand has become a top choice among various professional basketball players – so much so that Tissot decided to partner with the NBA. Warriors player Klay Thompson is often seen wearing a Tissot timepiece – the ambassador to the brand favors the Chrono sport style. The Supersport Chrono is a top choice and offers a masculine aesthetic with high-performance functionality.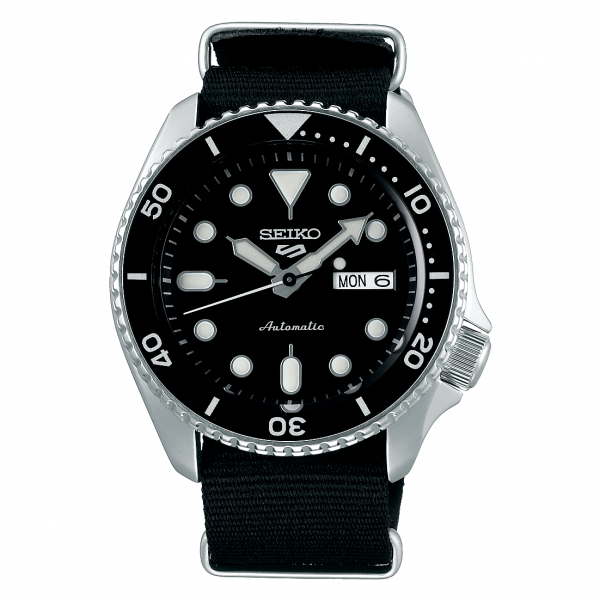 Over the last century, the Japanese watch company, started by 21-year-old entrepreneur Kintaro Hattori in 1881, has evolved significantly. Seiko has been a pioneer in watches and is responsible for many innovations including the world's first quartz watch, the Quartz Astron (first released in 1969). The quartz clock disrupted the way watches were made and nearly eliminated the mechanical watch.
Seiko has re-released a limited edition of the Quartz Astron, this time harnessing the power of the world's thinnest GPS Solar movement, which allows the watch to adjust to any time zone automatically. This watch even has a celebrity following, Tennis star Novak Djovak is a fan and has publicly endorsed it.
MVMT: The Beauty of Youth
Founded in 2013, MVMT is the youngest watch company on our list of best watch brands. However, youth does have its perks and the Los Angeles-based brand has successfully created a line of stylish watches that appeal to the well-dressed minimalistic man. The high-quality affordable watch (and accessory) company became an overnight success through social media and has expanded globally.
MVMT offers a variety of cool watches to choose from, the Chrono in Gunmetal Sandstone is a popular pick. The brushed gunmetal stainless-steel case and leather sandstone strap give the watch a little edge and it's no surprise the brand has a heavy influencer following.
There are three main things to consider when shopping for your first wristwatch: You will want to prioritize comfort first and foremost, especially if you are not accustomed to wearing a wristwatch. Next is functionality. Take inventory of your daily activities, and select a watch that's versatile enough to be worn throughout the day/week. Finally, style. Watches are so personal, select a watch that truly appeals to you.
A luxury watch is more than just a timepiece, it is a statement and in some cases an investment. However, what truly distinguishes a luxury watch from the rest is the labor-intensive process that goes into crafting the high-quality timepiece, many luxury watches are made by hand in Switzerland (or another European region) and use only the highest-grade materials.
Seiko is known for being an affordable but top-quality watch brand. The Japanese-made watches are often mistaken for its expensive Swiss-made competitors because of the use of high-quality materials and automatic quartz movement. Additionally, the brand offers hundreds of different styles and varying price ranges to suit any man (or occasion).