11 Father's Day Gift Ideas He'll Actually Love
It's June, and you know what that means: it's time to show all the dads out there a little love for Father's Day! Check out our 11 Father's Day Gift Ideas below for a little inspiration on how to show the dads in your life — or yourself — a little well-deserved appreciation. 
Being a father has never been easy. All dad jokes aside, it's a serious set of responsibilities that change our lives forever. It's more important than any job, more crucial than any game, and every decision we make once a dad has greater consequences. 
There's no guide to being a great dad — we learn as we go – and, man, did we learn a lot this year.  We made mistakes, we had some great ideas, we struggled, we got super creative, and we did everything we could think of to try to make the year seam as normal as possible for the whole family. We never asked for credit, we never needed praise, we just made sure everyone was happy and sane.
Great job, dads. You did it; you managed Covid. This year, more than ever, you deserve to be recognized, you deserve to be thanked for everything that you do. So go ahead, check out our Father's Day Gift Guide and thank yourself. Or better yet, accidently leave it on top of the signed homework and let it play out.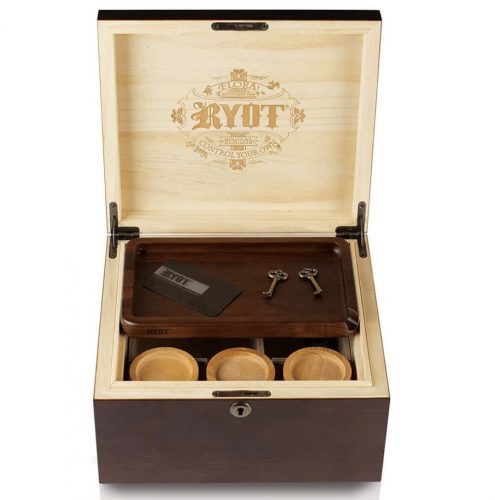 Whether you're a novice smoker or a seasoned veteran, chances are you've come across a RYOT product. RYOT have elevated the smoking experience with pioneering, innovative and high-quality products for years. Smell proof bags, herb grinders, and one-hitters are all on the menu, but the item that really stands out is the Ryot LOCK-R Box. It's like a mini wine cellar, except it stores your weed and keeps it from drying out. The humidor is equipped with a waxed rolling tray, three seal-tight glass jars, and dividers so you can keep everything nice and tidy. The box itself is a beautiful walnut construction equipped with a lock and key. The simple design blends into any office or home environment. It's the gift you never knew you needed but now has you wondering how you don't already have one.
Perfect Putting Mat - Standard Edition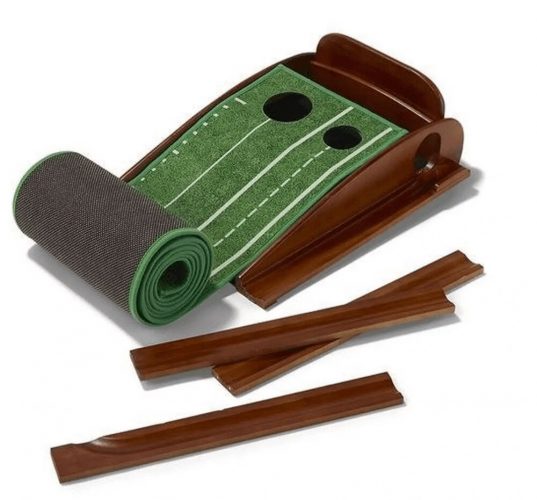 Golfing is tough. Check out Robin Williams' skit on golf for the perfect description on how ridiculously hard golf is. To get good you have to master all parts of the game. The best place to start is with putting. Putting is the easiest way to improve your score. Today, you can work on that with great accuracy right at home, at the office, or just about anywhere you want, really.
The Perfect Putting Mat is one of the most efficient putting mats out there. The unique Crystal Velvet surface offers realistic rolls at stimpmeter-tested speeds between 10 and 14. Train-track markings will improve your alignment, and the choice of a regular-size hole or a smaller one is a great way to get ready for a game. The slightly elevated hole also keeps you rolling the puts a little harder, so you never miss short on the real greens. The mat is enclosed in a nice natural wood frame and has an automatic ball return so you can keep making putts. It rolls up so you can store it in a corner or take it with you to friend's house for intermission and take all their money.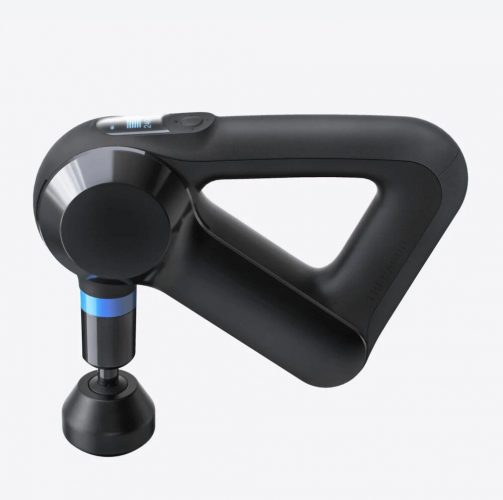 Let's face it, we're not getting any younger. You've either brushed off countless sports injuries, or overexerted your body more times than you can count and it's all catching up to you now. The Theragun smart percussive therapy device delivers a renowned deep muscle treatment tailored to your body's real-time needs.
The Elite features a beautiful ergonomic multi-grip design to help you apply pressure to any part of your body. The unit is equipped with five calibrated speeds, and connects to your phone via Bluetooth to offer even more choices. The phone app also personalizes your routine and guides you through your wellness routine. The Elite is 75% quieter than previous models while delivering the same power — enough power to reach 60% deeper into the muscle than the average massager, touching the body and coming off it 40 times per second. Don't wait for them to buy it, just get it.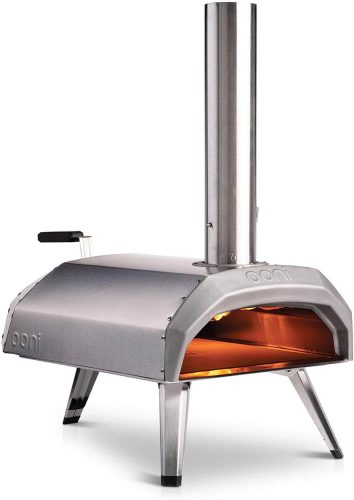 If you've ever tried to make a perfect pizza at home, you know it's nearly impossible. That's all about to change for you with Ooni pizza ovens. Get ready for affordable, sophisticated outdoor pizza ovens that deliver restaurant quality pies. The Karu 12" works best with kiln-dried hardwood kindling and also works with charcoal or gas (gas hook-up sold separately). Stick to wood to get the most authentic Neapolitan pizza possible. The oven is easy to clean, and the stainless steel design is impressively compact. I cannot recommend this product enough. It's so easy to use and prepares pizzas in 90 seconds with that real wood-burning taste. You'll never want to go out for pizza again.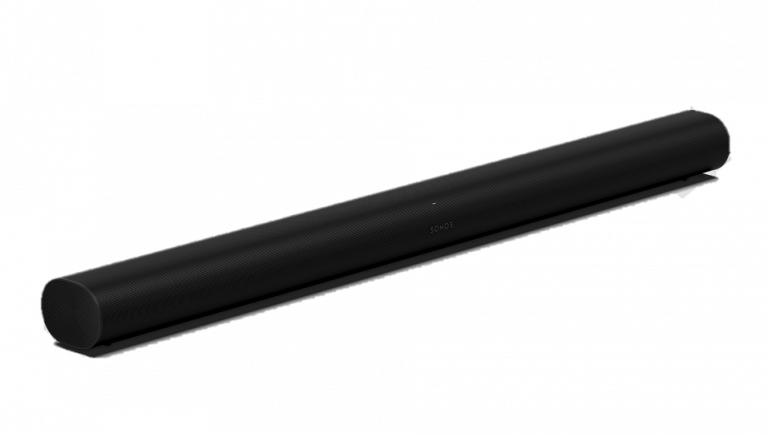 The Sonos Arc featuring the all-new Dolby Atmos sound experience is like nothing you've heard before. The speaker adapts to the room to offer the most realistic immersive sound you'll ever hear. The upward-firing drivers create a multi-dimensional soundstage that moves around you, delivering every whisper and explosion with dramatic clarity, detail and depth. With the recent launch of the Dolby Atmos experience, look for most new movies, broadcasts and music to be engineered specifically to work within this system, which has been hailed as the most ground-breaking audio advancement  since the invention of stereo sound.
Baxter of California Pacific Cannabis
Inspired by late nights spent at the Venice Boardwalk, Pacific Cannabis will make you feel like you never need to try another fragrance again. The pink pepper, rosemary and bergamot are the top notes balanced with tempered cannabis, lavender, and sage. And to add masculinity to the mix, hints of patchouli (I know, it made me hesitant too, but it works perfectly) and driftwood round off the fragrance. This one is Spicoli approved, so you know Dad will love it. To be honest, any product from Baxter of California is a guaranteed hit for any man. Their product offering is easy to shop and it's the most unpretentious line of men's care you will ever find.
TaylorMade Sim2 Max Driver
Putting is where you score points, but let's be real, the driver is where all the adrenaline lives. The mix of emotions and anxiety you feel at the tee box is somehow what keeps bringing us back. The Sim2 Driver will help calm the nerves. This might just be the most forgiving driver you'll ever hit. The driver is designed to provide faster club head speed, improve ball speed, and protect against heel and toe mis-hits as well as low face strikes. And if that's not enough, it's Dustin Johnson's go-to driver. Try the irons too and hit balls farther and better than you've ever hit them before.
Wolf and Grizzly Campfire Trio
You don't even need to go camping to experience the beauty of WG's campfire grill, fire safe and flint kit — you can use it right at home in the backyard, or on your next snowboard outing. But if you do take it camping, make sure everyone's looking when you take it out and set it up. You'll only need about 25 seconds to have the super compact grill and safe ready to go, and all of a sudden it doesn't look so small. The magic happens when you spark that flint like some modern day Marlboro man. This grill set is the most sophisticated grill you will ever lay eyes on.
Thank You Skateboarding by Ricky Roberts III
Some of you may already know that skateboarding saves lives.  Some of you never had the chance to discover it.  This book touches on many aspects of how skateboarding fosters determination and perseverance to overcome obstacles on and off a skateboard. It also touches on how skateboarding can become a source of great life-long friendships, and the different ways skateboarding contributes to the well-being of people's lives.
Want to get in on the gin craze? Look no further; we've found the one you want to try first. Named after the gin-based cocktail called the Aviation, this Portland, Oregon-produced American dry gin is impressive enough that actor Ryan Reynolds acquired a stake in the brand in 2018. In addition to the characteristic juniper flavor (did you know that gin is basically juniper-flavored vodka?), this bad boy boasts six additional flavoring ingredients:  orange peel, lavender, cardamom, Indian sarsaparilla, anise seed, and coriander.
Yeti Tundra Haul Hard Cooler
After listening to what their most loyal customers had to say, Yeti has launched their very first cooler on wheels, and, man, did they ever do it right. The cooler looks like a machine with details reminiscent of a pick-up truck or backhoe. Impact and puncture resistant, Neverflat® wheels, Strongarm welded aluminum arm and rotomold construction ensure durability while the Neverfail hinge system, Coldlock gasket, and Permafrost insulation ensure contents remain cold all day long. The Flatwall design makes it easier to pack.
Nothing was sacrificed in the making of this cold-holding powerhouse, ensuring the Tundra Haul® lives up to the Tundra name. The Tundra® Haul® is now the toughest cooler on two wheels. Show up with this cooler for instant cool dad level-up.