Best Men's Leather Crossbody Bag Options
Even before the pandemic hit us, people were starting to embrace getting back to real-life connections and nature. COVID added a little twist to this trend, further propelling us to the outdoors — many of us enjoying more alfresco time than we have in years.
As we come out of our COVID bubbles, our everyday way of life has changed. Many of us continue to telecommute, allowing for a more flexible schedule, and find ourselves constantly on the move, taking full advantage of our newfound freedom. It's understandable. We're desperately trying to make up for almost two years of our lives being on pause.
Now, we also like to be more prepared. We've gotten used to watching our consumption of goods and services. To checking to make sure we have our face mask and hand spray when we leave the house. We are survivors and we will conquer the day, no matter what that day has to offer.  Naturally, the clothes we wear have followed suit. We are putting more emphasis on comfort and utility. We're wearing clothes that can take us from day to night, from work to leisure, and from indoors to outdoors.
It's no wonder men have embraced the leather crossbody bag.  They keep your money, phone, hand sanitizer, and important things safe, while decluttering your pockets and keeping your look clean and crisp. 
Read on below for our look at the best men's leather crossbody bag options on the market today.
No longer a taboo, the crossbody bag is replacing the backpack as an everyday carry-all option. Lucky for us, fashion designers everywhere have all jumped on board, giving you an endless shapes, styles and sizes to choose from. From ultra minimalistic designs to loud, over-branded options, and even some that incorporate into jacket designs, if a bag has a single adjustable body strap, we consider this a crossbody bag. Even fanny packs are now being worn across one shoulder, not just for style, but for easy access to your phone and everything else you carry.
For this story, we're focusing on leather options. Leather offers durability, water resistance, and great structure. It also ages well, so your bag will only get better with time. What makes the best men's leather crossbody bag depends on your style, needs and budget, but we've spotlighted some of the top contenders so you can pick the perfect option for you.
The 8 Best Men's Leather Crossbody Bags
Best Streetwear Collab: Supreme x Northface Leather Shoulder Bag
As part of Supreme's The North Face collaboration a couple years ago the two brands released this leather crossbody leather bag. The bag features one large, zippered compartment, adjustable shoulder strap and a custom leather patch featuring both brands front and center for everyone to see. The full leather construction is a perfect size for your phone, wallet, keys and few extra items. 
One of the first American companies to bring back the over the shoulder bag, many believe this is where the popular trend got its start. This bag remains an instant status symbol in amongst streetwear aficionados and fashion heads alike and although you will need to buy it from a reseller and pay 2-3 times the original, these bags are still available in multiple colors and are still a great investment.
Best Minimalist: Ambush Black and Silver Crossbody Messenger Bag
Tokay based Ambush has delivered utilitarian, minimalist designed accessories to the streetwear savvy since 2008 when husband and wife team, Yoon & Verbal launched their first ready to wear collection. Their refined jewelry and sleek hip hop styling have landed them countless collaborations with sought-after artists and tastemakers ever since. Their rebellious approach to streetwear blurs the lines of minimalist Japanese styling and Vintage Americana and this masculine bag is a perfect example of this. 
The buffed leather messenger bag has a wide adjustable leather shoulder strap with a silver slider, matching silver zipper and hardware, and a 3d silver wordmark. At approx. 5"x 9" x 2.25' the bag is a little larger than the average cross shoulder bag but smaller than traditional messenger bags. Void of all extra embellishments, the bag does have one interior patch pocket.
Best Luxury Branding Option: Valentino Buffed Leather Messenger Bag
Named for its venerated founder, Valentino Garavani is an accessories line that bridges the gap between traditional artistry and contemporary sensibilities. Staying true to the legacy of high-quality craftsmanship established by its lauded parent brand, the Italian luxury label offers a diverse range of accessories including bags, wallets, belts, and jewelry. Like most of the bags in the collection the buffed leather goods feature a large logo printed in white across eh face of the bag and a silver logo stud in the back as well as red logo stamp inside. The matte silver hardware and zippers exude mid-century romance with modern day appeal.
At 4.5' x 6' x 1.5', the size of this bag adds to the sophistication of the design. If You're not quite sold on the man purse idea, this might be the perfect compromise as it feels more like a pouch or a case.
Best Fanny Pack: City Saint Laurent Crossbody Bag
It's no surprise that the famous French couture brand that introduced the concept of luxury ready-to-wear collections has kept a firm hold on fashion throughout the last 6 decades. The fashion house continues to uphold a legacy of utter modernity, refinement, and rebellion. Since the very beginning, small leather goods and accessories have played an important role with the brand and today is no exception.
 The Bag starts with a traditional oversized California bum bag silhouette and ends up with enough sophistication for the most formal of affairs. The silver tone metal hardware and brand signature add some punch to the ultra-soft lambskin construction while the sheer size of the bag adds sophistication and swagger. This is one of the bigger bags on the list at 10.2" x 6.7" x 2.7"and features a huge, zippered opening with one main compartment, one flat patch pocket and three card slots. The adjustable strap and engraved buckle let you wear this bag in multiple ways, but really, the cool kids will tell you, there's only one way to wear this bag, and that's with a lot of attitude.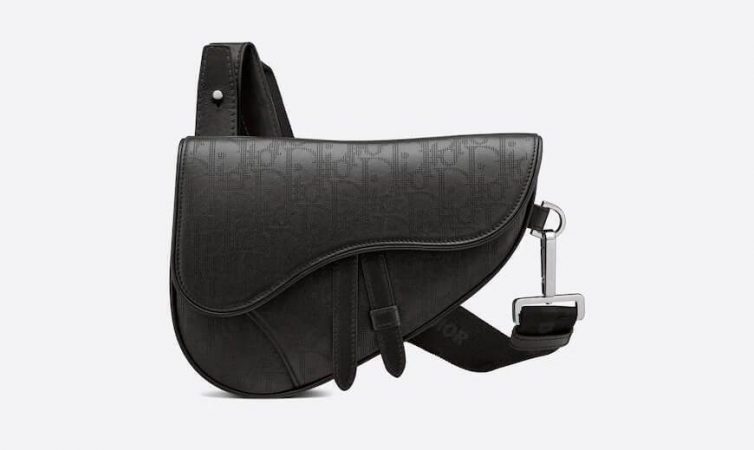 Most Unique: Dior Mini Saddle Bag
If you have internet, you've seen the famed Dior Saddle bag before. Everyone from Asap to Rhianna has been spotted with the bag slung across their body at various fashion events in the last couple of years. It's become one of the most prolific items from the Kim Jones Dior era and with reason. The unique shape of the bag is unmistakable. 
This season Dior offers us a smaller and more practical version. This time they've constructed it from black grained calfskin and replaced the large utility buckle with a magnetic flap in the iconic saddle silhouette which conceals a zipped closure. The bag has a removable and adjustable crossbody strap as well as two belt loops for those who want to wear it at the waist. The exterior is embossed with the signature Dior pattern. This one, the Mini, is 8.2 " x 6.2" x 1.2", and the bigger model is also available. If you're looking to make a statement, this is your best option, and undoubtedly deserves a spot on the list of best men's leather crossbody bag options out there.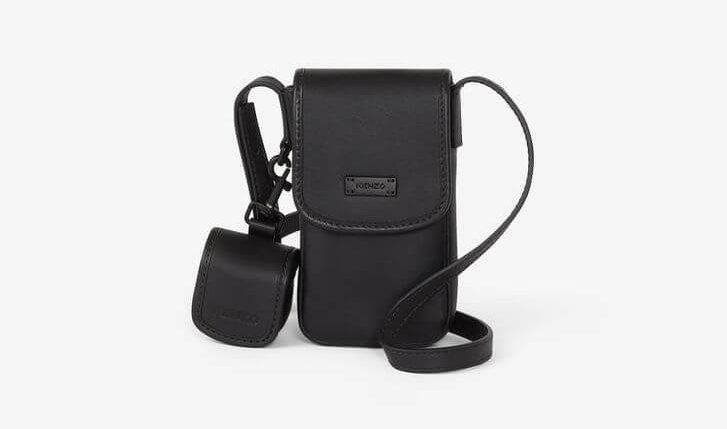 Best Budget Option: Kenzo Courier Crossbody Leather Phone Holder
Founded in Paris in 1970 by Kenzo Takada, who opened his first boutique in Galerie Vivienne, the House continues to reinterpret modernity with artful mixed prints, harmonized color palettes, and an ever-optimistic take on streetwear and accessories. Driven by a creative vision that combines aesthetic refinement with functionality. Each new designer who comes to Kenzo defines a new chapter in the brand's history while remaining true to the Kenzo DNA.
This little phone holder with its "side car" hanging AirPod pouch is a perfect mix of prolific streetwear and modern simplicity. True to the Kenzo DNA , this little gem tells stories and should be placed in a time capsule. Never has a phone case and AirPod case been so relevant. The Phone holder has a magnetic closure at the front and features a small interior pocket for cards. The leather strap is adjustable so it can be worn on your neck or across your body. This is one of the best budget options in the leather category and the branding is just prominent enough to let anyone know it's a Kenzo.
Best Luxury Option: Louis Vuitton Phone Pouch
Long before hip hop took notice and nicknamed it Louis V., Louis Vuitton has been a symbol of quality, craftsmanship and exclusivity. Today with Virgil at the helm and countless iconic collaborations with the world's most relevant designers and artists of our time, Louis Vuitton has reached new generations of loyal customers and fans and has re-established itself as a culturally relevant brand like never. Sure, the Marc Jacobs years helped regain some popularity, but this era is different. 
Not satisfied with simply adding a few new prints and silhouettes to the collection, Virgil Abloh has completely re-invented the brand from every aspect. With the decision to bring in Virgil, and give him carte blanche with the brand, Louis Vuitton brought the streets to it rather than trying to push their goods to the streets. This is as real as it gets, and the results are staggering and deserve all the praise.
The Louis Vuitton Phone Pouch is crafted in richly grained leather and is all about low key elegance. The gusseted main compartment opens wide for easy access to a phone and other belongings, supplemented by a front flap pocket adorned with a discreet "LV" in black metal. The removable strap is adjustable for convenient hands-free carry. The black hardware is subtle and opulent and the whole thing is lined in textile. This is the perfect discreet crossbody bag to carry your phone and a couple cards without overpowering your look. Don't worry, it's a Louis V. so everyone will take notice. This is our best luxury Option.`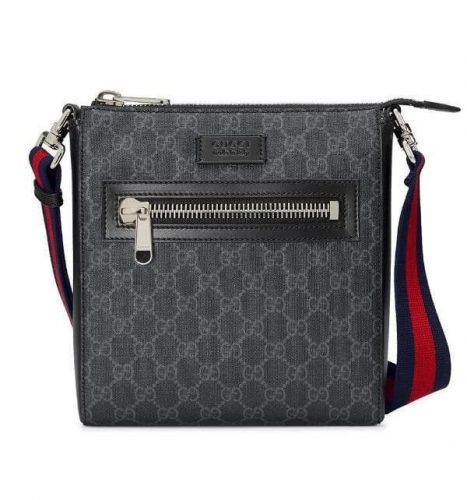 Best Non-Leather Option: Gucci GG Black Mesenger Bag
Another brand that has made leaps in bounds in the last few years to reach new audiences and be part of the conversation, Gucci is one of the most relevant luxury brands available today, with a legacy of glamor, elegance, and modernity underpinning its status as a bastion of essential Italian design. Appointed in 2015, creative director Alessandro Michele has ushered in a uniquely contemporary vision of opulence with androgynous, idiosyncratic, and personalized styles. Alessandro was also responsible for bringing in street artist, and ex-pro snowboarder, Trevor Andrew, aka Gucci Ghost to emblazon his GG onto many of its products and creating some street relevant pieces to the collection and the famous Gucci
shows. The Gucci GG Messenger bag is a perfect example of that collaboration. Presented in a black and grey combination with palladium-toned hardware, the GG motif takes on a contemporary look in a small messenger with front zip pocket. The design is further enriched with an adjustable nylon strap featuring the web in blue and red. The small messenger is lined in cotton and is a sure winner amongst the most discerning of customers.
When it comes to any small leather goods, its usually best to buy from a luxury brand. Luxury brands only use the best leather and the best components and hardware, and their products are usually handmade, so you know the product will age well and last a long time.
If you really want a particular brand, it's always best to buy the bag directly, either online or at a luxury retail location. The latter is also the best option if you'd like to see and feel the bag before purchasing, but your favorite department store works too.
If you want to browse a bunch of brands and styles in one place,  Ssense.com is the spot. The largest luxury retailer in the world, they carry a lot of styles from all the best brands. The website is insightful, easy-to-navigate, and offers amazing product photography. 
For pre-loved bags, you might want to try Poshmark. Their Posh Concierge authentication service will let you rest easy that you're getting the real deal.
The best men's leather crossbody bags, like any other leather goods, are the ones offered by the luxury brands. These brands don't give anything away, so you should be ready to pay at least $500 for a well-made leather bag. Depending on which brand and/or style you prefer, the price could  reach $2500 or more. The generic leather brands are much cheaper, but the designs are just not there and probably won't last.
Because these bags are so expensive, it's important to choose a neutral color that will not go out of style next month or even in the next few years. Most luxury brands offer silhouettes in black, chocolate, tan, navy, and other timeless neutral colors. A bright-colored leather bag is stunning but much less practical, so I would only recommend such a purchase if you have a lot of money to spare. When it comes to these things, less is more.