Best Men's Leather Gloves For Style & Warmth
Men's leather gloves are a timeless accessory that also serve a vital purpose; they keep you warm while adding a dash of style and elegance to your wardrobe. 
If you have to deal with winter every year, you likely have a bag or drawer bursting with old itchy wool gloves that you've accumulated over the years. While those serve their purpose (they are generally cheap and warm), they do you no favors in the style department.
With that in mind, we're looking at the best men's leather gloves on the market, from luxurious cashmere-lined gloves to the sturdy workhorses to get you through the coldest days. Here's what to look for when trying to narrow down the type of men's leather gloves that are right for you.
What to Look For in a Pair of Leather Gloves
Not all leather is made the same. The majority of men's leather winter gloves are made from cowhide, which offers a nice balance between flexibility and warmth. Some higher-end designers use lambskin, a supple leather that's incredibly soft, while some use deerskin, a tough leather that will last for years.
Certain designers incorporate leather sparingly in their gloves (in the palms, for example) and fill out the glove with wool or synthetic materials designed to combat the cold. When selecting a pair of men's leather gloves you should always read the tags or check the company's website to see the type of leather being used, which will also help with cleaning and care tips.
During the coldest months, you want to be sure your leather gloves are adequately lined to keep you warm and dry. Many manufacturers line their men's leather gloves with polyester, which is an affordable way to keep you warm while keeping the price of their gloves down. However, if your budget allows for it, cashmere-lined leather gloves are the ultimate in comfort and will keep your hands ensconced in softness, making your winter commute something to actually look forward to.
Online shopping has made our lives so much easier in most respects, but nothing beats trying a leather glove on in-person (just ask O.J. Simpson). Every pair of gloves has a slightly different fit, and if you're investing in a pair of men's leather gloves you want them to be snug and flexible. Many manufacturers use a simple sizing system (small through XX-large), though some European companies favor a numbering system. If you're unsure of your size and can't make it out to try on some pairs in-person, a number of online stores offer a sizing test you can perform at home with a tape measure to ensure you're selecting the best possible fit.
While all men's leather gloves provide some insulation from the cold, if you work outdoors or spend a great deal of time outside during the winter you'll want to wear something designed to combat the cold and the wind. Look for gloves insulated with Thinsulate or gloves designed with a 2-in-1 system meant to lock in warmth without sacrificing movement.
While men's leather gloves harken back to a time well before the invention of cell phones, let's be real; you're going to want to check Instagram during your commute. With that in mind, there are a number of men's leather winter gloves specifically designed to be used with touch-screens. However, if you're in the market for a more traditional pair of men's leather gloves, you may have to sacrifice that feature (which may just be the excuse you need to cut down on your screen time).
Here is our rundown of the best leather gloves for men for all budgets and needs.
Best Leather Gloves For Men in 2021
Best Dress Pair: Burberry Cashmere-Lined Leather Gloves
You won't find the iconic Burberry tartan design anywhere on these luxurious leather dress gloves, but make no mistake, these are some of the most stylish gloves you can get for the money. These black leather gloves for men are made from 100% supple lambskin, with a 100% cashmere lining, so they'll look as incredible as they feel. They include a press-stud closure to keep out the wind and ensure a snug fit, and the only sign of branding is a discrete Burberry text logo at the bottom end of each glove. These are some of the best men's leather gloves for any upscale occasion. Refined and elegant, these are gloves you can wear to a black-tie event but they wouldn't look out of place during a night out at your local pub either.
Best Bargain: H&M Leather Gloves
You don't necessarily have to break the bank to get a decent pair of everyday leather gloves. These affordable leather gloves from H&M look almost identical to many of their competitors but only cost a fraction of the price. Made with supple leather, these comfortable and sleek gloves feature a soft wool lining and an elasticized cuff with a slit for easy removal. Even if you have a higher-end pair, at this price point it's worth grabbing a pair of these just as a back-up. You can throw a pair in the pocket of your favorite jacket or in your gym bag to be sure you always have a pair handy on chilly days.
Best Under $100: Barbour Insulated Leather Gloves
Many men may balk at the price of high-end leather gloves while still looking for something more durable than the discount pairs you can grab at the local pharmacy. If you're in the budget for a stellar pair of men's leather winter gloves at $100 or less, these insulated gloves from Barbour offer a lot of bang for your buck. Based in the UK, Barbour has been in business for 120 years and they've earned a reputation for crafting elegant men's gloves that you won't need to re-mortgage your house to snap up. Available in olive, black, and tan, these water-resistant gloves are lined with thermal fleece to keep your hands snug and warm, and come complete with a wrist strap to ensure the cold air doesn't come anywhere near your hands. 
Best Luxury: Bottega Veneta Cashmere-Lined Leather Gloves
If your budget allows for it, you would be hard-pressed to find a better pair of men's luxury leather gloves than this beautiful pair from Bottega Veneta. Based in Italy, Bottega Veneta is a luxury fashion house renowned for their leather work, so you can rest assured that these gloves are worth the hefty price tag. Made from soft black leather, these sleek gloves feature the company's striking intrecciato weaving, elasticated cuffs, and a full cashmere lining for ultimate warmth and comfort. Throw away those ratty prickly wool gloves and treat yourself to some of the best cashmere-lined leather gloves available. Your hands will thank you (though your credit card may not).
Warmest: Canada Goose Northern Utility Gloves
While many are drawn to men's leather gloves for their style, if you need serious protection from the elements you can't go wrong with these ultra-warm gloves from Canada Goose. These 3-in-1 design winter leather gloves include a waterproof exterior shell, water-resistant leather palms for grip, and touch-screen functionality so you can still use your devices even on the coldest of days. On less-frigid days, you can break out the down-insulated liner gloves and wear those out on their own for a slimmed-down experience. On the coldest days, double-up and slip on the complete package for maximum protection.
If you're worried about losing a pair, fear not; Canada Goose has included handy clips to be sure they stay together when you store these workhorses over the warmer months. Canada Goose makes some of the best leather gloves for men who need some extra warmth during the coldest months of the year, so you can buy these with confidence.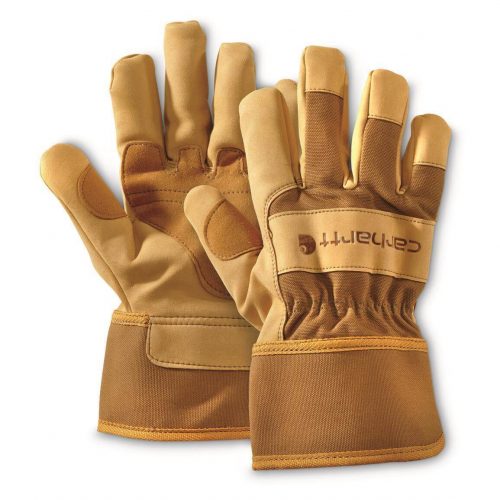 Best Leather Work Gloves: Carhartt Insulated Work Glove with Safety Cuff
With their bold and clean designs, Carhartt has become an incredibly popular brand in the fashion world. For all their newfound popularity in the world of street fashion, the company is still best known for their tough-as-nails workwear. While Carhartt is the only brand that you're just as likely to see in the club as at a construction site, the company still focuses on durable and dependable clothing, including these grain leather work gloves. 
These work gloves are sturdy enough for the toughest jobs, and are also insulated with Thinsulate polyester to keep you warm when the temperature dips. The light brown shell is made from 100% genuine leather, with suede cowhide palm patches, cowhide knuckle protection, and a safety cuff. You don't have to be tearing up concrete to sport these Carhartt leather gloves, but you're guaranteed to be ready for anything that might come up with these dependable gloves on-hand. 
Best for Cell Phones: Kent Wang Deerskin Gloves
Made in the UK, these leather gloves from Kent Wang are perfect for those who want the ability to be able to text or check Instagram in cold weather. These leather winter gloves area treated to be especially sensitive to touch-screens, making it a cinch to be able to use your device without having to whip off your gloves in the cold. Unlike some spray treatments which may chip off over time, Kent Wang claims this nanotechnology treatment won't ever wear off, ensuring you won't be replacing this pair anytime soon. 
Made from deerskin, an exceptionally durable and wrinkle-free form of leather, these gloves still look sleek and smooth enough for a dressed-up look. Best of all, these gloves come with cashmere lining, making them suitable for even the coldest winter days.
Best for Driving: Riparo Full-Finger Driving Gloves
If you have a daily commute in cold weather, investing in a sturdy pair of leather gloves can be a game-changer for drivers. Apart from keeping your fingers warm in freezing temperatures, the right pair of driving gloves also helps you maintain a better grip on the wheel, which can help you navigate slippery roads and everything else nature throws at drivers during the winter months. 
These full-finger leather driving gloves from Riparo are an elegant choice. Made with supple leather, you'll get an excellent grip on the steering wheel while keeping your hands warm during your drive. If you're worried about your hands over-heating, Riparo has placed perforations all throughout the top of each glove, ensuring maximum breathability without sacrificing warmth. Regardless of the type of car you drive, you'll be stepping up your style game with these.
Most Durable: Wells Lamont Leather Work Gloves
If you're going to be putting your gloves through the paces and also need to keep warm in frigid temperatures, these leather work gloves from Wells Lamont are some of the most durable (and warmest) work gloves on the market. Made with grain cowhide, a tough yet flexible variety of leather, these abrasion resistant gloves include a 100-gram Thinsulate lining to keep you toasty while you're out working in the cold.
 While it may look like a typical construction glove, Wells Lamont has smartly designed this model with a glove-within-a-glove system, allowing for fluid movement that doesn't skimp on protection from the elements. These are some of the sturdiest and most durable men's leather gloves on the market, while also featuring a soft leather exterior and a throwback design that shows you mean business.
If possible, the best place to buy men's leather goods is through a large department store where you can try on a large variety of gloves to determine the best fit and style. If you're shopping online, you can start with the official Carhartt online shop for work gloves, the Canada Goose store for heavy-duty winter gloves, H&M for bargain gloves, and the Bottega Veneta online store for luxury gloves (if you really want to make your wallet hurt).
How much you should pay for men's leather gloves really depends on your budget and your needs. You can get a pair of leather gloves for under $20 that should hold up well in most situations, but if you need something to truly combat extreme cold you're likely looking at something in the $50+ range. For luxurious men's dress gloves, you can be looking at anything from $200 – $600 depending on the brand and the quality of the materials.
There are a number of brands making high-quality leather gloves; a good rule of thumb is to look for established companies that have been in business for decades (many of these companies have been operating for over a century). Carhartt, Canada Goose, and Wells Lamont are dependable choices for work and cold-weather leather gloves, while Barbour and Kent Wang are great options for dressier men's leather gloves that won't break the bank.