The Best Golf Pants For Men
One of the barriers many potential golfers face when contemplating getting into the game is the sheer amount of gear you need just to get started. You'll need a varied selection of clubs, a sturdy bag, gloves, shoes, shirts, and yes, the right pants. So what are the best golf pants for men?
Thankfully, golf fashion has evolved drastically in recent years. While traditional golf attire has always been rather straight-laced (most courses have a dress code which hasn't changed that much in the past few decades), many companies are now developing golf pants with today's fashion trends in mind.
Major sports companies like Adidas and Nike now offer golf pants that wouldn't look out of place at home or even at the club. You can now easily find sleek golf pants in a wide variety of cuts, colors, and fabrics. Long gone are the days when your only option was a stiff pair of pearly-white pants that would heat up your body like a furnace throughout the day.
When narrowing down the best golf pants, there are a few areas you want to focus on to ensure you're getting the right combination of flexibility, performance, and style. Round out your ensemble with our picks for the best golf shirts here.
What to look for in golf pants
Selecting golf pants with the proper fabric is essential. You need to be sure you are comfortable and cool while playing, while ensuring your pants have enough stretch to allow you to execute your biggest swings. Most golf pants are made out of polyester with some combination of spandex, a light and breathable combination that allows the material to stretch to accommodate your full range of movement.
Choosing the cut and style of your golf pants mostly comes down to personal preference. As long as your pants are light and flexible, you can go a bit outside-of-the-box with the design. It's hard to go wrong with a classic chinos-inspired look, while many younger golfers appreciate a slim-fit tapered design. Just keep in mind that unlike shopping for jeans, it's not enough that your golf pants simply fit; you want to ensure that you can stretch easily while wearing them to be sure they don't restrict any of your movements. You don't want to mess up a shot because your pants were too stiff.
Many of the best golf pants on the market now include UV protection to save your legs from the harmful effects of sunrays. Considering that you're ideally playing on a nice sunny day, choosing golf pants with added UV-protection is a smart and savvy move that will allow you to play better and safer.
A few additional features to consider when shopping for golf pants include the number and style of pockets (5 pockets is the classic model), the style of the waistband (many models now feature a clinching design to help keep your shirt tucked in), the material (look for something wrinkle-free to save time), and of course, the color of the pants. While traditional colors still rule the green (black, white, or grey), some companies are now releasing golf pants in bright colorways including pink, yellow, and orange. Proceed with caution before straying too far outside the lines though; most golf courses have a dress code that you should inquire about beforehand. Getting turned away from a day on the course because of the color of your pants is an embarrassment you want to avoid at all costs.
The 8 Best Golf Pants For Men in 2022
Nike Men's Flex Victory Pant
The Nike Victory pant is crafted from a beautiful moisture-wicking fabric that lets you move in comfort. With this pant's great stretchability, you'll never feel restricted while enjoying a flattering slim fit. The dry fit fabric doesn't look out of place off the course either; they resemble a nice chino pant you might wear to work or social activities off the course, so you could wear these pants every day. The 5-pocket design also has a stretch waist and belt loops so you can wear it with or without a belt depending on your preference. What's more, the pockets are mesh lined to keep the garment ultra-light. This might just be the best golf pant available and what's even better, it's also available as a short for those unbearably humid days.
Bonobos Highland Tour Golf Pants
Bonobos has become widely successful in recent years for producing clean and stylistic clothing for men, manufactured to ensure the perfect fit. The popular e-commerce company has now thrown their design expertise into a golf line for men, including a wide selection of golf pants. The Highland Tour Golf Pants are our favorite from the line — a timeless choice that offers the flexibility you need to perform while ensuring you look sharp out on the green. Made primarily made from polyester, they feature a 4-way stretch, allowing for a wide range of movement. They feature a gel waistband to keep your shirt tucked in, discrete interior pockets for your phone and a scorecard, and come complete with UV coating to protect you from harmful sun rays. What else could you ask for in a pair of golf pants?
Hugo Boss Slim-Fit Trousers in Water-Repellent Technical Twill
If your budget allows for it, you won't find a better-looking pair of golf pants than these slim-fit trousers from Hugo Boss. Constructed with water-repellent technical twill, these form-fitting pants allow for a wide range of movement and fluidity, offering up a high level of performance to match their eye-catching design. Featuring a partially elasticated waistband for comfort and flexibility, these also include belt loops, meaning you can easily transition these from a day out on the course to an evening dinner wardrobe in no time. Available in white, black, grey and blue, these classy golf pants offer up the comfort and performance you need to achieve your best results, in a style unmatched by anything else on the market.
Puma Jackpot 5 Pocket Golf Pants
Puma is best known for their sleek running shoes and iconic tracksuits, but they also make some of the best golf clothing on the market. The company has taken the comfort and flexibility of their popular tracksuits and melded those elements with a traditional 5-pocket golf pant for their Jackpot line. The Jackpot features moisture wicking properties to keep you cool and dry, and a mesh waistband for comfort and ease of movement, complete with silicone gripper tape to keep your polo snuggly tucked in even after a big swing. Available in nine colors, including head-turning choices like pink and bright orange, the Puma Jackpot line is perfect for those who want to stand out from the pack without sacrificing the comfort and dependability of a traditional golf pant.
Under Armour Showdown Taper Pant
Under Armour claims these pants were built for the next era of golfers. The pants are fabricated using a high performance, mobile fabric, and a stretch waistband, allowing for an unlimited range of stretch so your body can twist and turn in any direction without obstruction. The new streamlined fit is meant to reduce drag on every swing, but we just love how it fits aesthetically. These pants are also lightweight and feature moisture wicking properties you would expect from Under Armour. This one is also available as a short so you can flex your game in any weather conditions.
FootJoy Athletic Fit Pants
As their name implies, FootJoy made their name in shoes, creating some of the most beloved golf shoes on the market. They've taken that golf clothing expertise a step further with their Athletic Fit Pants, a stylish pant that offers incredible stretch in a dressier looking pant than many of their competitors. With a flat front styling and front and back "jeans-style" pockets, these FootJoy pants offer the convenience of slacks or jeans with 4-way stretch technology to really help you get in the swing of things. Offered in classic colorways like black, white and grey (you won't find any brightly-colored options here), this is an elegant choice for those who want to retain a touch of class out on the green.
Adidas Ultimate 365 Tapered Fit Pant
These pants have the best fit I've ever seen in a golf pant; I would buy them as an everyday pant without hesitation. The fit is the perfect balance of relaxed and slim; the tapered leg completes the modern flattering look. The pants are made using a recycled polyester featuring 12% elastane so you can move without restriction and you're helping the planet at the same time. The waist band is constructed with elastic stretch as well to ensure your waist can turn properly during those powerful drives, and there are spots of silicone inside to keep your shirt tucked in place if that's your thing. The fabric also protects you from the sun with its FTP50 coating so you never have to worry about the harmful rays.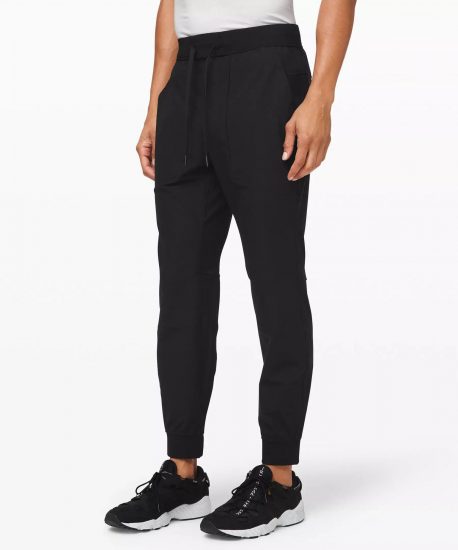 Lululemon is acclaimed for their ubiquitous yoga wear, so you can trust them to understand how to design active clothing for any sport, including golf. These ABC Joggers are some of the best golf pants on the market, even if they aren't explicitly branded for golfing. Lululemon's patented ABC Technology removes tension from the crotch of their pants, creating a light and ergonomic fit perfect for flexible movement. Made from Warpstreme fabric, these pants are wrinkle-free, feature four-way stretch, and a draw-cord you can either let hang out for a relaxed look or tuck in for more a dressier approach. Either way, with their slim tapered design and lightweight construction, you'll get a great performance pant that won't look out of place even when you're grabbing drinks or a bite post-game.