Best Cordless Hair Clippers For Men
If you are lucky enough to be able to grow facial hair, razors and/or clippers are important tools to keep stocked in your bathroom cabinets. No longer reserved for lumberjacks, beards hold a certain power, and can totally change your overall look. From Van Dykes and Garibaldis to your classic goatee, there is no denying the power of facial hair.
As kids, many of us watched our father figures shave in the mirror with a cartridge razor or sat and watched them reclined in a barber's chair for the royal beard treatment. Nowadays, there is no shortage of options when it comes to grooming your face and hair at home. 
Many people are looking for efficient, low-maintenance grooming solutions with excellent at-home results. Luckily, we now live in a wireless era, and there's no more getting caught up in the cord or huddling near the plug. The best cordless hair clippers for men make easy work of DIY beard and hair coiffuring.
Cord vs Cordless Hair Clippers
Cordless hair clippers work on dry hair with no lather or prep necessary. Other than convenience, there are a few reasons to choose cordless over corded. What it comes down to is personal preference, need, and lifestyle, since either will give you great results. Cordless hair clippers come at a premium cost, considering the freedom of maneuverability a corded option does not offer. Wanting a beard trimmer at home to cut your hair most likely means you are looking at saving some cash or some time, ultimately meaning you're willing to forgo some endurance for convenience and affordability. Corded clippers are thought to last longer, but that is only because cordless varieties require recharging after every use, or the charging of batteries. 
When men make the switch from a corded to a cordless option, the biggest difference noted is that cordless hair trimmers are lighter in weight, causing a slight adjustment in how the tool is handled. Cordless trimmers are made from motors and high-tech cutting mechanisms, which makes shelling out the extra cash for a dependable model worth it. Moreover, having cordless clippers can be very helpful for tasks where sound is a factor, like when sculpting a beard. Hearing hair being cut over the motor noise helps, and no one wants to be jolted when in tight areas like around the ears.
Interested in what the best options are? Get barbershop quality cuts at home with QMan's look at the best cordless hair clippers for men available in 2022.
What to Look for in Cordless Hair Clippers
If you are in the market for an at-home haircutting kit, it is important to remember that not all clippers are made equally. They are made for specific needs, which is why it is important to consider what your priorities are.  For example, if you routinely shave your head, or if you have sensitive skin, researching the types of blades and ergonomics of the clippers is smart. You likely want something intuitive but not necessarily super-lightweight. However, if you're a master barber and plan on doing more elaborate hair and beard grooming, you want to be as comfortable as possible holding the cordless hair trimmer for longer periods of time, and you need to make sure the charge can last for the duration. 
If you are still not sure what your needs are, check out our look at the best beard trimmers (both corded and cordless) — another great resource for understanding beard grooming techniques.
7 Best Cordless Hair Clippers For Men in 2022
Wahl 5 Star Limited Edition Cordless Magic Clip Black & Gold Clipper
Seasoned barbers are fans of this Whal 5 Star Limited Edition Cordless Magic Clip. This hair trimmer runs on a lithium battery that will run for a minimum of 90 minutes before requiring a charge. The best part is that there is no loud buzzing noise, and it doesn't heat up in your hand. The #2161 sharp precision blades promise great cuts for every use, and the stagger-tooth technology helps cut all types of hair. This bad boy yields professional results, no matter your level of experience. Plus, the taper lever for an easy fade and blending helps, too.
Remington HC6550 Cordless Vacuum Haircut Kit
Remington put together all their best technology in one box with this haircutting kit! The HC6550 Cordless Vacuum Haircut Kit comes with everything you can think of including barber scissors, length-adjusting combs, blade oil, clips, tapering combs, plus a pouch to keep all accessories organized and out of the way. The suction system adds some bulk to the tool, but it's worth it, and the blades can be removed for easy clean-up. This model lasts approximately one hour after a 4-hour charge, however it can work with a cord as well, in case you need it.

If you are in the market for an aesthetically pleasing, powerful cordless hair clipper that was built to last, the BabylissPRO GoldFX is for you. Designed by Ferrari, this beauty's high torque motor generates a smooth, clipper hum with a lot of power. Whether you're a beginner or a barber with years of experience, these premium clippers are lightweight — less than one pound — and have ergonomic textured housing. The blade size is easily adjustable thanks to the clipper's highly-accessible taper lever. With eight attachment combs and sharp Titanium-coated blades, the BabyblissPRO is designed to cut all types of hair.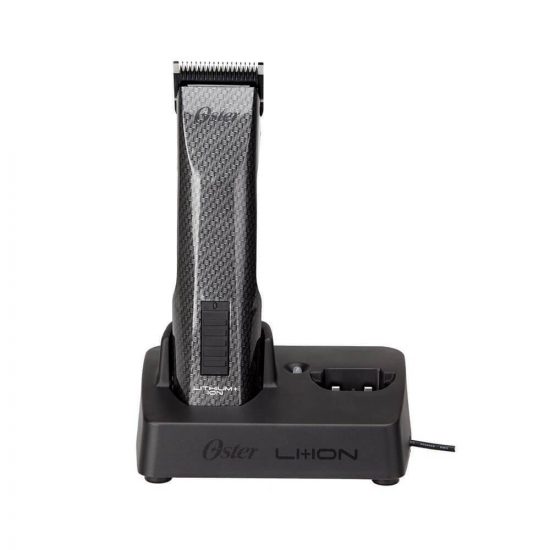 A big name in the industry, Oster is no stranger to hair clippers. Their Octane model is slightly on the pricier side, but it is ergonomic and lightweight. The clippers use detachable blades; instead of a taper lever, this grooming machine works with two different standard blade sizes to help cut hair at varying lengths effortlessly. This device comes stocked with a dual charging dock, meaning you can charge both the clippers and the spare battery at the same time! Plus, the carbon fiber housing looks posh — which doesn't improve performance per se, but it doesn't hurt! The lithium battery runs for approximately two hours on a single charge.
Remington PG6025 All-In-One Trimmer
If you are in the market for a quality shaver that is under $100, the Remington All-In-One Trimmer should be your first choice. Between the six attachments, you're covered for any of your manscaping needs. The blades are made of self-sharpening surgical steel to ensure their sharp durability, and the rechargeable lithium battery runs for 70 minutes before a recharge is necessary. The attachments can easily be cleaned by simply rinsing them under the faucet. This all-in-one trimmer kit comes with a trimmer, foil shaver, combs for both hair clipping needs and beard trimming, plus a travel pouch to keep all accessories organized.
Philips Norelco 7100 Hair Clipper
At first glance, the Philips Norelco 7100 hair clippers might look a bit intimidating. Standing tall at ten inches, they are undoubtedly larger than the average hair clippers, however it's doubtful you will find something remotely similar. The battery allows for two hours of cordless haircutting, and it only takes one hour to charge it up to full power. These clippers work with DualCut technology; the first of the two rows of blades are made of self-sharpening gold-titanium metal for the blades to cut twice as fast as other brands while decreasing any friction. Halfway down the handle, you will find a numbered dial to choose the length of hair you will be working with.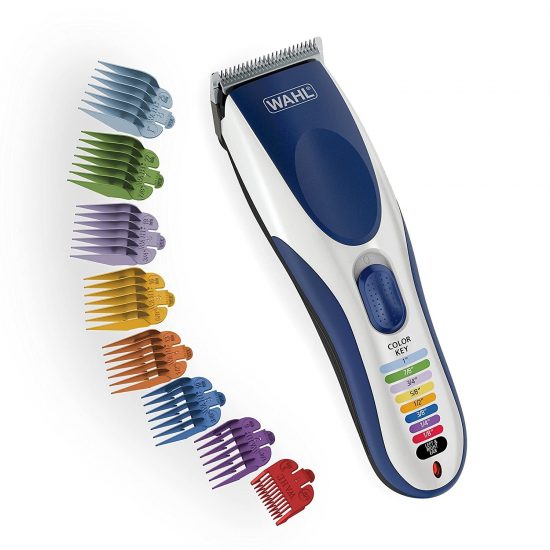 Of all the home clipper kits, the Wahl Color Pro Cordless Clipper & Trimmer is home haircutting made super easy. The 8 easy-match color-coded guards make adjusting hair length simple, while the soft travel case and world-wide voltage make this a great option for your next trip. The high-precision blades are slick and will easily cut, fade, or blend any hair type. This rechargeable clipper also comes with a blade guard, barber comb, styling comb, scissors, cleaning brush and blade oil, so you have everything you need to get the job done right, and it even comes with a 1-year warranty. This affordable option is geared towards everyone, whether you are new to at-home haircuts or a master barber.
Investing in a home hair clipper kit probably means that you are looking to save on weekly trips to the barbershop. A few clippers mentioned above will cost under $50, so even if it means starting with buzzcuts and clean-shaven cheeks, it's a start. Being frugal by nature generally means you value your time and are willing to learn – meaning you will have blending and fading down in no time. The accessories that come with the kit can make all the difference while learning the ropes to a new trade. Cutting hair is an art that factors in personal style, the shape of one's face, and type of hair. Not everyone who works great with short, straight hair can work the same magic on curly.
Standing in front of the locked glass cabinets at the drug store may seem overwhelming while weighing the pros and cons. Feeling the pressure to have your choice made by the time an attendant comes with the key is all in your head. Do not be shy to do some research, and ask to see more than one option. The most expensive model does not reflect the best option for you, keep in mind – remember, self-sharpening blades, long-lasting rechargeable batteries, and powerful (but quiet) motors all matter. Cordless hair clippers are meant to be convenient and comfortable, achieving the perfect angle while maneuvering easily around your bathroom mirror.
Cordless hair clippers can be purchased at your local drugstore, or online directly from the company website or marketplaces like Amazon. You'll be ripping the cellophane off the box and learning how to handle your new hair clippers in no time.
Out of the list mentioned above, our pick for best cordless hair clippers for men goes to BabylissPRO GoldFX. The beautiful design is lightweight, and has a high torque motor designed by none other than Ferrari. The adjustable titanium blades, and the eight combs promise easy use, no matter your skill set.