Best Bidet Attachment For a No-Stress Upgrade
Bidet attachments are some of the most affordable, accessible, and easy-to-install options when it comes to purchasing a bidet for your bathroom at home. If you're not one hundred per cent sold on the concept yet, but you're looking to dip your toes (or your tush?) into the world of bidets, an attachment can serve as an excellent starting point.
Opting for a bidet attachment in lieu of a bidet toilet seat or a full-on bidet (as Cher Horowitz would put it) is becoming an increasingly popular choice among consumers. They allow you to kick toilet paper to the curb and achieve your extreme clean without spending an arm and a leg.
Thanks to the ever-growing bidet market, there are now a vast number of brands and models to choose from. Lucky for you, we at QMan have taken the time to compile a list of the best bidet attachment options available today. There's a butt for every seat, after all!
The Ins and Outs of Bidet Attachments
There are many reasons why someone might want to switch over to a bidet. They're eco-friendly, hygienic, and they often come with a bunch of cool features. Plain old TP just can't compare! However, sorting through all the functions and features offered by the best bidet attachments can get a little confusing and overwhelming, which is why it's so important to know what to look for the next time you're browsing for one.
Unlike a bidet seat, a bidet attachment simply sits between your current toilet bowl and seat, rather than entirely replacing your current set up. They're also typically non-electric, whereas more complex bidets can be either mechanical or electric. Price, spray types, and temperatures are also all key factors to consider when it comes to figuring out what the best bidet attachment is for you.
For example, the nozzles and spray patterns offered by different bidet attachments can vary. Some models provide a wide, full-coverage spray, whereas others might offer adjustable dual nozzles for front and rear sprays, allowing you to customize them to your personal needs. Some even come with a handheld bidet sprayer, so you can aim the stream exactly where you need it. Many of the best bidet attachments have self-cleaning nozzles, while some feature a hot water option. All you have to do is figure out your backside's priorities and shop accordingly!
Best Bidet Attachment Options in 2022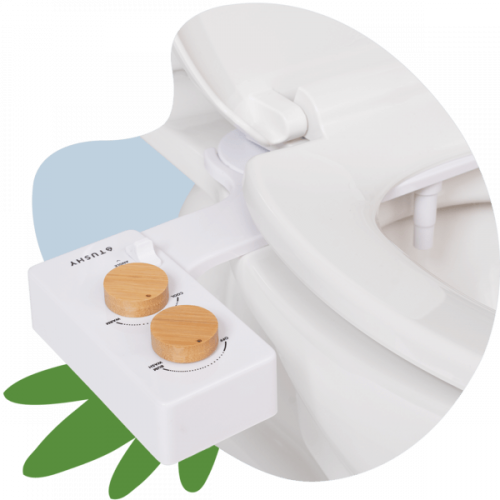 Marketed as "The Most Thoughtful Bidet in the World", the TUSHY Spa 3.0 is one of the best bidet attachment options in the brand's collection. This model is one of their extra special ones, as it offers a warm water option and angle control. With the turn of a knob, you can adjust the temperature and optimize the water pressure as you please. The only catch is that the Spa 3.0 has to be located next to a sink in order to function properly. If that doesn't work for you, you can always opt for the iconic TUSHY Classic. The brand's very own Smart Spray™ technology ensures an automatic self-cleaning nozzle. Plus, this attachment's knobs are anti-microbial, guaranteeing that every inch of this model stays germ-free. 
The best part about this bidet attachment is that it comes with everything you'll need to easily install it on your own—no need for electricity or any fussy plumbing. As if that wasn't enough, for every TUSHY sold, the brand also helps fund the build-out of clean toilets for those in need. Purchasing the TUSHY Spa 3.0 is you doing a favor for your booty and the global community!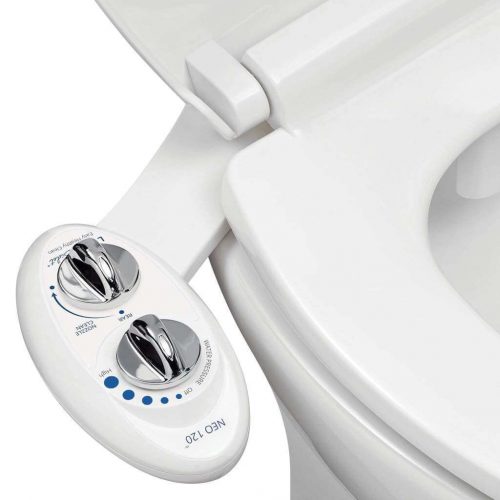 The Luxe Bidet Neo 120 is certainly true to its name. This may be one of the most luxurious bidet attachments available for purchase. Not only does it feature a self-cleaning nozzle, a nozzle guard gate, and high-pressure metal and ceramic core valves, but it also comes in a sleek, high-quality, curved design that will feel updated and modern rather than clunky or tacky. By using steel instead of plastic or another lower quality materials, this bidet attachment is rust-proof and built to last. 
The installation is easy to do yourself, and the bidet attachment will remain easy to attach and detach from your toilet as you please. It even comes with an 18-month warranty that'll really save your butt if anything doesn't run as it should. Most importantly, its chrome-plated water pressure control knob and easy-to-read settings make this bidet attachment extra accessible, which means everyone in your life can use and love it, no matter their age.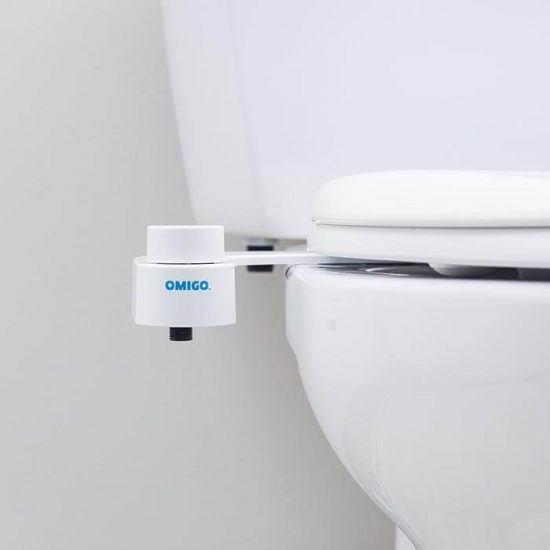 This warm water bidet attachment features a slim design that won't interfere with your toilet seat, making it a great fit for both round and elongated toilets. The Omigo Element+ is unique in that it has two separate nozzles for the front and rear. With controllable water pressure and large, user-friendly dials, this attachment is a great option for bidet beginners and experts alike.
Its self-cleaning nozzles each have an extended plastic barrier they retract into that protects them from any bacteria that might get up in the mix. While this bidet attachment will need to connect to your sink in order for the hot water spray to function, its six feet of tubing is both clear and flexible, so it won't be an eyesore. Discreet yet durable, the Element+ is sure to meet your bathroom break needs.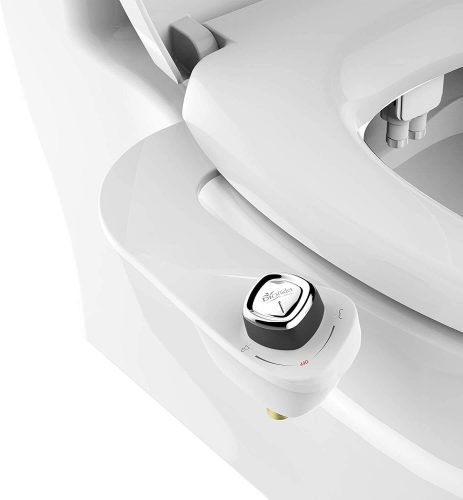 This simple bidet attachment from Bio Bidet comes with a dual nozzle system. The SlimEdge is named for its durable, ergonomic design, which features a square knob and a comfortable, easy-to-use rubber grip. With pressure control functions and both front and rear sprays sitting at a natural incline, this bidet attachment will seamlessly blend into your bathroom's decor. The SlimEdge also features a sleek incline to complement your natural position. As bidet attachments tend to be, this model from Bio Bidet requires a very minimal installation process. Your plumber and electrician can take a day off, 'cause you've got this covered!
GoBidet's GB-2003C is a bidet attachment with a single control knob that allows you to adjust both water temperature and pressure. Designed to fit on a variety of toilets, this hassle-free model has a seven-hole spray nozzle that covers a greater surface area than most. While it can be compatible with a warm water set-up, it can also be used without it, so no need to stress about your sink situation. 
Though it's made from solid brass, this GoBidet attachment has a high-quality chrome finish that gives it a more luxurious look—perfect for your modern bathroom's aesthetic. Easy and affordable in comparison to more extravagant bidet options, the GB-2003C is a great place to start if you're a beginner who still desires a quality product. All you have to do is use the lever to swing the spray arm into position and you're good to "go"!
Today, most bidet seats and attachments are very quick and easy to install. Most brands offer do-it-yourself installation processes, and their products typically come with easy-to-follow instructions—some even in online video form for those who need something a little more visual. Attachments are actually some of the easiest kinds of bidets to install as they tend to fit easily under your existing toilet seat.
Bidet attachments are smaller bidet devices that you place between your toilet bowl and seat. They provide cleansing sprays by connecting to a water line in your bathroom. With the simple turn of a knob, pull of a lever, or push of a button, bidet attachments usually allow you to control the pressure and temperature of said spray.
The type of bidet attachment you choose for your toilet will usually depend on the type of toilet you have: one-piece vs. two-piece, round vs. elongated, etc. If you're unsure, you can always select a model that is designed to fit a variety of toilets. It's also important to note whether or not your toilet is located near a sink because warm water bidet attachments will typically require that connection.