The Best Wooden Watches For Style & Sustainability
When we think about men's accessories, our views are often limited. Sunglasses, shoes, watches… maybe some jewelry depending on your vibe. It seems a bit stifling, doesn't it? Well, luckily, in a world where men are becoming freer to experiment than ever, men's accessories are also getting a little experimental. Maybe you're bored of the traditional watch, but why not try a wooden watch? Believe it or not, this is one of the luxuries that the watch industry affords us in 2021.
If you're an environmentalist, an outdoorsy bloke, or just a more casual kind of guy, you might be into sporting a wooden watch. While they're not the most popular timepiece yet, wooden wristwatches are a steadily growing section of the watch market. 
Unique and cutting-edge, wooden watches are revolutionizing the world of watches, both in terms of style and sustainability. Ready to dive into a whole new world? Read on for QMan's guide to the best wooden watches.
Why Consider a Wooden Watch
There are many perks to wooden watches that you don't see in a lot of other luxury watches. This is mainly because of their unique material—wood (duh)! Wood isn't the most durable, but it is an inexpensive and sustainable material in comparison to other watch materials such as precious metals. It's also super lightweight to wear. If you're fed up with heavy, pricey, not-so-eco-friendly watches; you have a metal sensitivity; or you're simply looking for something that stands out from the crowd, then you've stumbled across the right article.
There are many things to consider when shopping for a wooden watch, such as which type of wood you should choose, or—because they're a fairly new phenomenon—which brands are trustworthy and create high-quality products. Luckily, you have us to guide you through the jungle.
The 7 Best Wooden Watches in 2021
Treehut Odyssey Cathaya Walnut Blue
Treehut is one of the best wooden watch brands out there. The company was founded six years ago from a basement garage in San Francisco, so you know their team is dedicated to their work. Anything from their Odyssey Collection is a solid choice, but the nature-inspired Cathaya Walnut Blue is a stunning model.
Slim and lightweight, this watch is crafted from natural walnut wood and natural Cathaya wood. It features classic roman numerals in a gunmetal shade at 6 and 12 o'clock, as well as a bright blue second hand that draws attention with a pop of color against the neutral backdrop. With a 40mm case and Japanese quartz movement, this timepiece is minimalist and sophisticated, yet durable and long-lasting, making it one of the best wooden watches for men.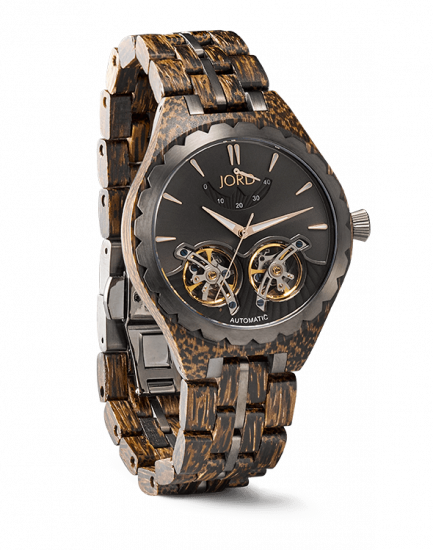 This limited edition Black Palm watch from Jord's Meridian collection is something to behold. In fact, it would blend seamlessly into the trees of a tropical rainforest any day, but it certainly won't blend in among your friends' watches. This watch has a deep, leopard grain reminiscent of a jungle cat that is sure to stop anyone dead in their tracks.
The Black Palm is one of the best wooden watches for those who are interested in a wooden watch but who are worried about the lack of durability. Jord reinforced this model with machined steel through the structure, and manufactured it with their very own Resin-Infusion Stabilization Technology process that increases the strength and improves the finish of the wood. This is done by placing the watch into an activated resin bath under a vacuum. Jord then bakes and cools the watch, allowing it to harden into a unique, enhanced wood that can withstand the elements better than regular wood.
Original Grain Sapele Black Barrel
Original Grain is another notable wooden watch brand. If you're a whiskey man, you'll love this model. Their Barrel collection is inspired entirely by the drink, featuring bold lines and rivets reminiscent of whiskey barrels, actual reclaimed wood from old bourbon barrels. Have you ever heard of such a thing?
Available with either a bracelet or leather strap, this all-natural African Sapele wristwatch is both comfortable and cool. In addition, Sapele is actually one of the most durable woods in the world, making this another one of the best wooden watches for those seeking something sturdy. It looks like mahogany, but it doesn't wear like it.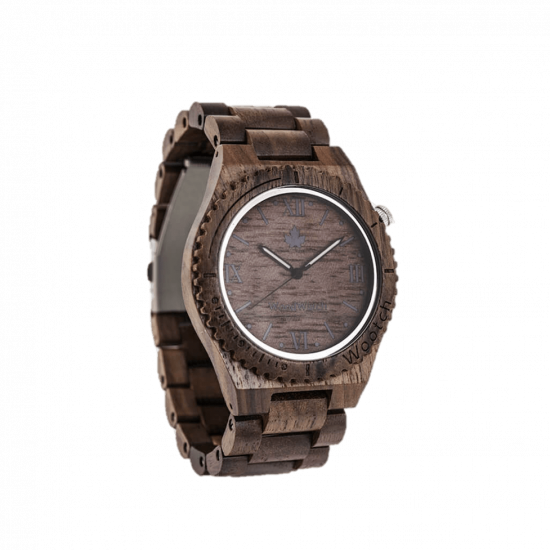 This Wootch Walnut model from WoodWatch has a gorgeous design. Hand-carved with detailed craftsmanship from high-quality, sustainable, natural walnut wood, this timepiece is sure to make a statement with its unique case. With tones of light and dark brown and even some hints of red and grey, this rich walnut wood contains curls, rings, corners, and, occasionally, darker strips, making each watch distinctly unique. This model also features a metal safety clasp and includes the tools you'll need to adjust the size of the strap.
This is also the perfect watch for those who are sustainability-minded, as WoodWatch plants three trees for every product purchased. So far, they've planted more than 400,000 trees worldwide. I guess they're some pretty good watches! What's even more special is that you can request an engraving on your watch, which would make a really special gift for a loved one.
Plantwear Raw Series Ebony
Plantwear—it's all in the name! Hand-crafted using the finest exotic solid woods from approved and certified sources, this brand's watches are as gorgeous as they are sustainable. This Raw Ebony number is a deep brown shade and a very stylish option for those seeking a wooden watch with a leather strap and hints of stainless steel.
The leather straps are made from high-quality, top grain, vegetable-tanned leather that Plantwear hand-picks themselves at a local tannery. With Japanese quartz movement, hands made in France, and mineral glass made in Germany, this watch is a multicultural beauty. Don't forget to request an engraved message to a special someone on the case back if you're interested in gifting this one!
Lux Woods The Dawson Wood Watch
Lux Woods, a watch brand based in Raleigh, North Carolina, is known for making some of the best wooden watches available. The Dawson, in particular, is a notable example. As one of their most clean and stunning pieces, this watch is perfect for the modern gentleman looking for something a little more upscale. While this watch is constructed from a rich, eco-friendly, Egyptian golden sandalwood, it's also crafted with grade 316L stainless steel, which gives it a more dressy feel than your typical wooden watch. The golden sandalwood is also a uniquely dense wood, making it extra hard and resistant to damage or warping.
With multiple complications, lots of special features, and Seiko movement, this timepiece provides all the characteristics of a normal luxury watch combined with the novelty of wood as the main material. Plus, a purchase of The Dawson comes with Lux Woods' Premium Oak Watch Box and Watch Pillow. Before you lose count of all these perks, we'd also like to add that Lux Woods works with charities that plant trees and feed children in need, so you know your money is going towards something good.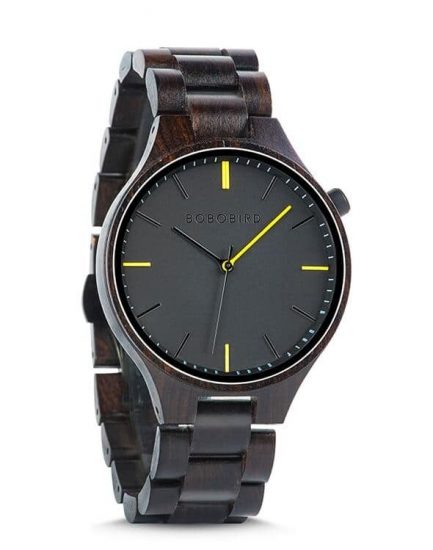 Bobo Bird Gentleman Collection Handmade Ebony Wooden Watch
If you're looking for a handmade wooden watch, purchasing one from Bobo Bird is a good way to go. This Japanese quartz movement ebony and black sandalwood model with a Hardlex glass from their Gentleman collection features yellow markers and hands that stand out against its simple black dial and dark wood. Also constructed with bits of stainless steel and genuine leather, this watch features a push-button hidden clasp for easy release.
This multiple-function chronograph wristwatch is a great option made from 100% natural, eco-friendly wood. Fashionable, classic, and elegant, this timepiece is perfect for engraving and gifting, or just for treating yourself.
Typically, wooden watches aren't the best waterproof option. While they are usually treated with heat and oil to become splash-proof or very slightly water-resistant, there are much better options that won't get damaged or warp for those looking to take their watch into the water with them.
While it is extremely important to adhere to the guidelines each brand provides for how to care for your new watch, most wood watches can be wiped down with a mild, natural, and protective oil. Whatever you do, don't use any harsh solvents or go dunking your wooden watch in water. This will almost certainly damage the watch. Gentle is key!
Wooden watches are great in that they tend to be more lightweight, comfortable, eco-friendly, unique, and affordable than most other luxury watches. However, they do tend to be way less durable.
While there are durable wooden watches offered by some brands, they still pale in comparison to something like titanium which will hold up much better over time and under harsh conditions. Wood watches will break down eventually, and they will never be completely waterproof.