Whether you're a watch aficionado or not, I'd bet anything that you've heard the name "Rolex". Rolex is largely known as the watch brand. Generally considered the best of the best for men's watches, a Rolex is more than just a simple timepiece. A Rolex watch is a fashion statement, a status symbol, and even a milestone marker for life's most special moments. When it comes to luxury watches, a Rolex can be both an easy choice for those new to the watch world and a unique addition to an expert's vast collection.
If you're looking to treat yourself and finally make that daring purchase, you might quickly find yourself overwhelmed by the sheer amount of information out there. From materials to models, to parts and pieces, it's easy to get lost in the minor details. Selecting the right Rolex for you can feel pretty intimidating, but it doesn't have to be. Luckily, we've done the research for you! Here's our ultimate guide to Rolex watches for men.
Originally founded in 1905 by Hans Wilsdorf, Rolex is headquartered in Geneva, Switzerland, and is a leader among Swiss watches and in the watch industry in general due to its trusted reputation and iconic models. Apart from their sturdy and stylish builds, Rolex watches are also hailed for their consistency. Since the brand was started, they've produced watches that have been updated to have more modern functionality, but their look has stayed the same. This guarantees that you, your grandfather, your son, and your son's son, can all rely on your Rolex watches always being timely and never going out of style. For more than a century, Rolex watches for men have continued to earn their high-end status due to the brilliant and innovative engineering practices that combine the contemporary and the classic. Rolex is one of the only brands that can have you feeling fresh and up to date, all while channeling your inner old-Hollywood celebrity.
Getting the hang of watch-related vocabulary can be tough, and Rolex doesn't make it any easier. While all the regular lingo still applies, Rolex has fundamentally changed the "watch dictionary" with their own brand-unique terms. There are several words you might come across when perusing for a Rolex—we'll help you decipher a few of them!
Most watchmakers use some sort of illuminator in the dials and hands of their watches to ensure prime visibility even in low light scenarios. "Chromalight" is what Rolex calls their own brand-specific illuminant.
This is another Rolex-specific term that was coined by them back in the day. A "cyclops" when it comes to Rolex watches for men is essentially a sort of magnifying glass on the watch's crystal above the date complication that magnifies the date.
Helium Escape Valve (HEV)
An HEV is basically what it sounds like: a small valve in a Rolex's case that allows helium to escape. This is often found in their dive watches, as it protects the watch from pressure change damage when divers come back up to the surface.
Today, "Oyster" has almost become synonymous with "Rolex", but it was actually originally the name of Rolex's first waterproof watches, coined by founder Hans Wilsdorf himself.
If you've done your research or been around a Rolex wearer or two, you've probably seen a two-tone watch. Typically, a two-tone watch features both stainless steel and gold materials instead of just sticking to one monochrome look. "Rolesor" is what Rolex calls these multi-colored numbers.
A super case is an updated version of a regular watch case that is unique to Rolex. On a super case, the lugs are usually thicker, giving the watch a heavier, flashier appearance on the wrist.
Rolex Materials & Movements
Unlike many watchmakers that construct their own inner mechanisms but source their cases from outside their own company, Rolex constructs most of their watch movements and materials themselves. To keep it simple, they always employ the same materials year after year. These include materials such as Oystersteel; Everose, Yellow, and White Gold (all 18k); Platinum; Rolesor (a combination of Oystersteel and one of the golds); and Cerachrom. Most of these are formulated specifically to look sporty, provide high-quality strength and shine, as well as ensuring they are as rust-resistant and scratch-proof as possible.
Beyond the material of the case, Rolex also often includes precious stones, such as diamonds,  in a variety of their models—as if a plain old Rolex wasn't fancy enough!
In terms of movement or caliber, Rolex watches for men are usually either mechanical (manually wound) or automatic (self-winding).
Rolex's Unique Clasps, Bracelets, & Bezels
Rolex offers their own specialty clasps and locks with each of their watches. The most popular of the clasps is probably the famous Oysterclasp or Oysterlock, which is known for being the most secure in avoiding loss or theft thanks to its double locking mechanism. Twice as safe!
Rolex also offers the Easylink clasp and the Glidelock—each of which allows for bracelet expansion when needed. The Easylink does this on a smaller scale (5mm), whereas the Glidelock can expand up to 20mm in length.
Lastly, there's the basic Crownclasp or Crownlock that serves as a standard option for a sleek look on a dress watch, as the clasp disappears from sight once it's locked.
In terms of bracelets, Rolex carries a number of options for every watch and every man, including the Jubilee Bracelet, Oyster Bracelet, Oysterflex Rubber Bracelet, Pearlmaster Bracelet, President Bracelet, and Rolex Leather Bracelet. These various options allow for either a sporty or dressier feel, depending on what you're going for. The Pearlmaster is widely renowned as Rolex's best bracelet for a dress watch due to its sophisticated design, whereas something like the Oysterflex focuses more on comfort and ease.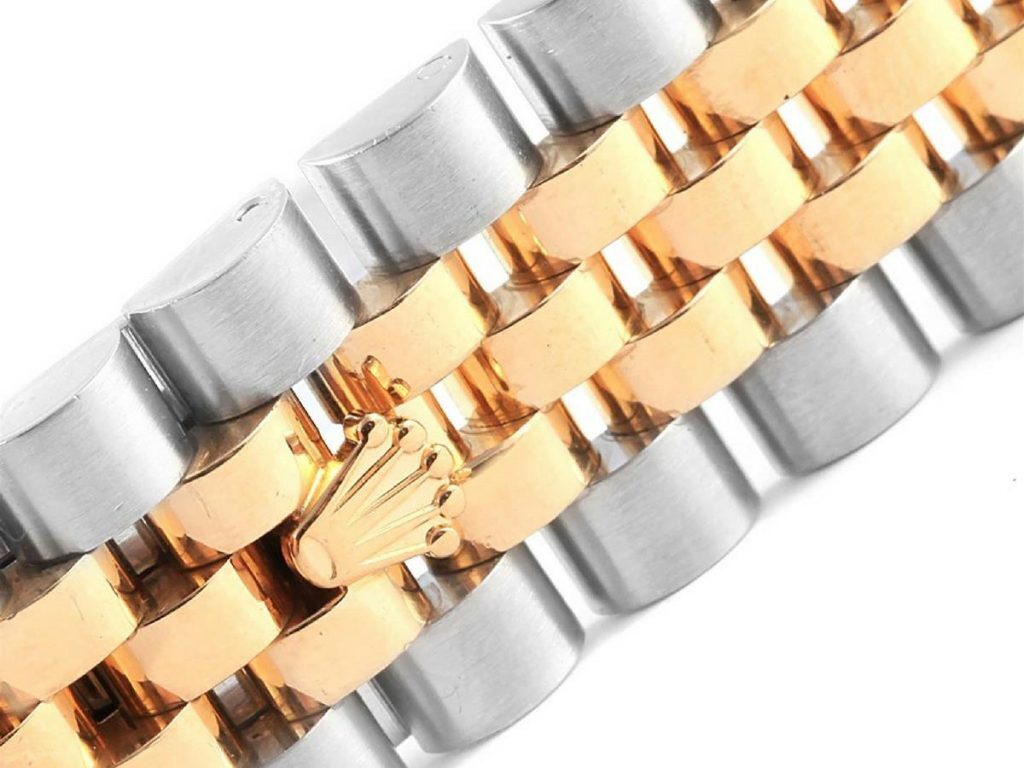 A watch's bezel is the part of the case that circles the dial and acts as a frame for the crystal. There are still several types of bezels, such as stationary or rotating bezels, that provide a specific function, such as tachymeters, pulsometers, telemeters, decimeters, and more. At Rolex, shoppers can find plain bezels, fluted or rotating precious metal bezels, engraved fixed bezels, rotating bezels with inserts, and bejeweled bezels. Based on your needs or preference, there are many options to choose from. Whether you like the distinct look of a fluted bezel or a bezel studded with jewels of your choice, you can opt for something more versatile and subtle, or go all out. It's up to you!
Selecting A Model: How Do They Differ?
On the surface, it may seem like there are thousands of different Rolex models to sort through. While it's true that the watches are often adjusted with small updates throughout the years, they still fall neatly into a digestible number of categories. Once you're familiar with the relatively small selection of models and parts offered by Rolex, you'll find that building the perfect watch for you or a loved one is as easy as can be. Steer clear of serial numbers and find clarity with this simple fact: Rolex watches for men can be sorted into two basic categories—Classic and Professional.
When it comes down to it, the Classic Rolex watches are dress watches, and the Professional watches are those that offer a sporty look and serve more of a purpose thanks to their more intricate functions and complications. The Classic models include the Datejust, Day-Date, Oyster Perpetual, Pearlmaster, Sky-Dweller, and the Cellini Collection. The Professional models include watches like the Air-King, Cosmograph Daytona, Explorer, Explorer II, GMT Master II, Milgauss, Sea-Dweller, Submariner, Yacht-Master, and Yachtmaster II.
The Rolex watches that are most commonly praised are usually the Oyster Perpetual and the Submariner—and rightly so! Both are simple and clean-looking watches that don't sacrifice any style or quality. They offer a classic, sporty look that is safe for first-watch buyers and longtime collectors alike.
Oystersteel bracelet, domed bezel
Platinum bracelet, bezel set with diamonds
Oystersteel bracelet, domed bezel
18 ct white gold, diamond-set bracelet, diamond-set bezel
Oysterflex metal blades w/ elastomer; rotatable Rolex Ring Command
Oystersteel bracelet, smooth bezel
18 ct Everose gold with oystersteel bracelet; bezel fixed with engraved tachymetric scale
Oystersteel bracelet; fixed, 24-hour graduated bezel
Oystersteel Jubilee bracelet; Bidirectional rotatable 24-hour graduated bezel
Mechanical, regatta chronograph
Oystersteel and 18 ct Everose gold bracelet; 18 ct gold Rolex Ring Command bezel
Is a Rolex watch worth it? A Rolex has a high price tag for a reason. While it is a big investment, a Rolex watch is worth every penny when it comes to quality and style.  At the end of the day, you're not just buying a Rolex for the name—you're selecting a world-renowned watch based on the company's well-deserved reputation.
That said, if a Rolex is a little out of your price range — and you certainly wouldn't be alone on that one — there are many alternatives out there that are a fraction of the price.