Best Men's Leather Work Bags: Industrious & Stylish
If you want to make a lasting impression at work, a leather work bag is an office essential. It's a classic and practical way to set yourself apart both at the office and on your daily commute. 
From the timeless look of a classy leather briefcase to the modern style of a messenger bag, a leather work bag is a smart investment that will elevate your workday (and may even help you stop dreading Monday mornings).
A leather work bag is not only a striking fashion accessory but also serves a utilitarian purpose by helping you transport your laptop and work-related goods to and from the office in style.
Before you start shopping for the best men's leather work bags on the market, there are few things to keep in mind to help you narrow down the best bag for your particular needs and budget.
What to look for in a leather work bag
Not all leather is created equally. Full-grain leather is the most expensive option; made from the uppermost part of the cowhide, it's resilient while remaining soft and pliable. Best of all, it actually looks better as it ages, making it a wise investment that will keep you looking sharp for years to come.
If full-grain leather is a bit too pricey, you can also consider bags made from top-grain leather. One of the more predominant types of leather you'll find in men's bags, top-grain leather is cooler to the touch and also better at repelling stains.
Somewhat surprisingly, bags marked as 100% genuine leather are not only a description of the type of material used, but also of the leather quality (or lack thereof). "Genuine leather" is actually the cheapest form of leather on the market and the most commonplace. However, if you're on a budget, don't let that deter you — you can always make your way up the leather bag chain over time.
Men's leather bags come in a number of styles today, from the classic briefcase to funkier hybrid models that can be easily adaptable with the addition or removal of a shoulder strap.
Regardless of which model of men's leather bag you prefer, you should always double-check the size of the bag, especially if you'll be transporting a laptop around (most new bag models are designed to safely store a laptop up to 15", but older models were designed with smaller laptops in mind).
If you have the option to physically check out the bag you're interested in first, that's a plus. Although most websites have fairly straight-forward refund policies, getting your eyes (and hands) on a leather bag in person is still the best way to determine if a bag is right for you.
For a professional look, you can't beat a classic men's leather briefcase. They've been the definition of classy men's work bags for generations and offer a timeless look that will never go out of style.
With more people transporting their laptops to and from work (or to and from the local coffee shop), men's leather messenger bags have become an extremely popular choice. With a cross body strap that allows you to keep your hands free to bike or hold onto the subway during your commute, a messenger bag will serve you just as well on the weekend as it will from Monday through Friday.
If your work requires a great deal of travel, you'll want a men's leather bag with some extra room for a few changes of clothes and anything else you'd want to being along for a quick trip out of town. A leather weekender or duffle bag can serve as both a work bag and a handy piece of luggage, whether you're travelling for a business meeting or heading out of town with some friends for a quick getaway.
Ready to up your bag game but not sure where to start? Below we've highlighted the best men's leather work bags on the market in a number of categories and price ranges, from luxurious full-grain leather bags that you'll hang onto for years to top-tier faux leather options that look just as good as the real thing.
Interested in a leather bag in another style? Don't miss our rundowns on the best men's messenger bags, best men's laptop bags, and best men's leather backpacks.
The Best Men's Leather Work Bags
Best leather briefcase: Filson Weatherproof Leather Original Briefcase
If you're looking for a men's leather work bag with a timeless design, a leather briefcase is the way to go. A briefcase is still the most professional-looking work bag on the market; it shows that you take both your work and your style seriously. This leather briefcase from Filson stands out due to the incredible quality of its leather. Made from the company's highest grade of leather, this version is vegetable-tanned by the 150-year-old Philadelphia tannery Wickett & Craig. 
Water resistant and salt resistant, this is a great option for those who have to deal with the elements as part of their daily commute. On top of the fine construction, you'll get all the amenities you need from a work bag including a laptop sleeve (for laptops up to 15"), cloth interior pockets, and a thick felt-padded shoulder strap. While far from the cheapest bag on our list, this is a classic men's leather work bag that's sure to turn heads at the office (or anywhere else for that matter).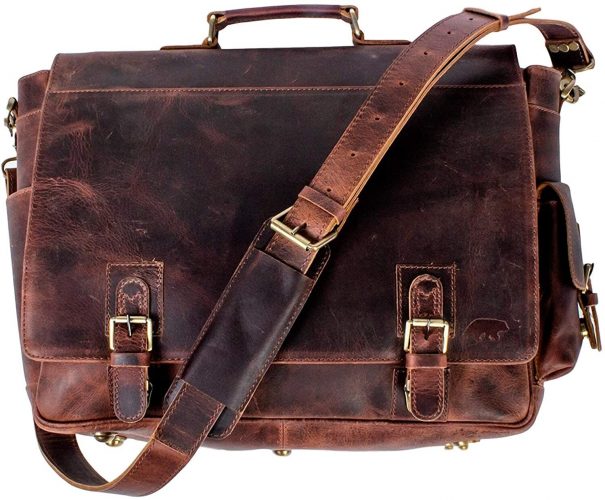 Best leather messenger bag: Kodiak Sitka Leather Messenger
No longer restricted to bike messengers battling gridlock traffic, messenger bags have become incredibly popular among businessmen and it's easy hard to see why. They carry a smaller footprint than many bags, and are incredibly versatile. Regardless of how you physically commute to work, a messenger bag is a  comfortable and easy-to-manage way to transport your laptop and anything else you'll need for the day. You'll also get to keep your hands free to check your email on the subway or cue up your Monday morning playlist on the way to work. 
Our recommendation for the best men's leather messenger bag for work is the Sitka model by Kodiak. Made from smooth full-grain leather, this bag melds the beauty of the finest leather with the accessibility you need from a messenger bag. The bag comes equipped with two exterior pockets, a large interior pocket and an additional pocket just for your laptop, along with a number of smaller pockets to keep you organized on the move. The bag also includes a removable shoulder strap, allowing you to quickly transform the bag into a briefcase with its included sturdy handle.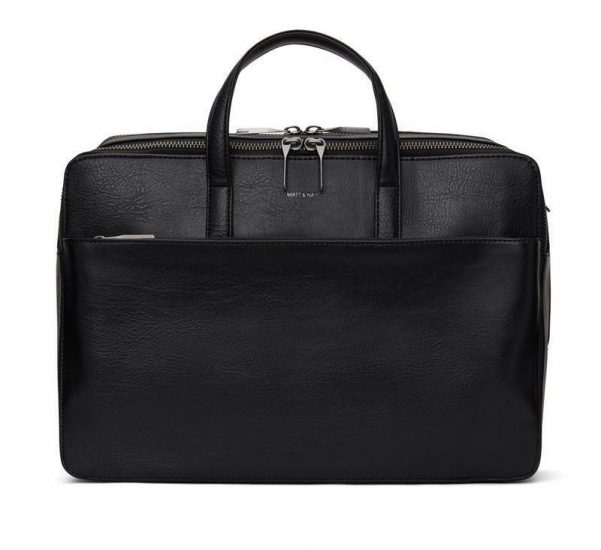 Best vegan leather option: Matt & Nat Tom Vegan Briefcase - Dwell
For those opting for a vegan faux-leather bag, you can't go wrong with the sleek and elegant Tom Briefcase from Matt & Nat. This is essentially two bags in one that you can customize based on your style preference or your plans for the workday. You can use this as a classic briefcase, or attach the included strap to convert it into a messenger bag — perfect for those who commute by bike or want to keep their hands free. 
This bag has everything you'll need to cover you for a day out, with three zippered pockets, including one on the outside of the bag for quick access. The main compartment has a padded sleeve that can accommodate a laptop (up to 15"), as well as padded sleeves for your smartphone and pens (especially helpful if you have a nice pen you want to keep safe). Like all Matt & Nat bags, you can purchase this with a clear conscious; the interior is made from 100% recycled water bottles and the bag is entirely vegan and cruelty free.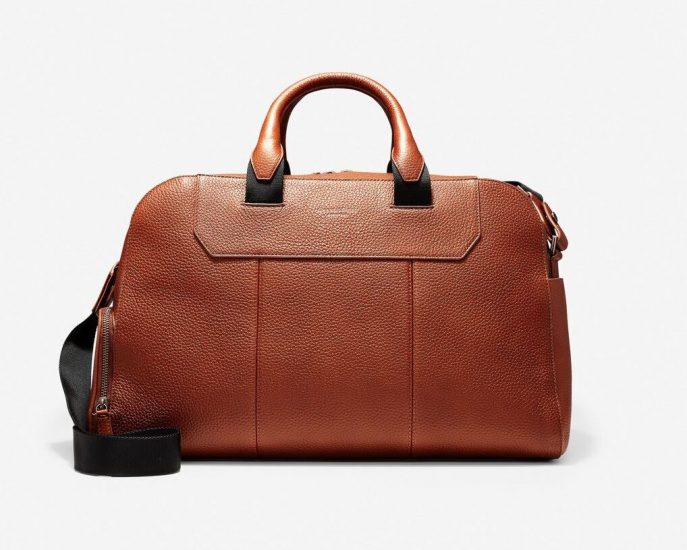 Best weekender option: Cole Haan GRANDSERIES Leather Duffle
This striking bag from Cole Haan serves two purposes; it works as both an eye-catching daily work bag as well as a convenient travel bag for short work trips or a quick weekend out of town. Featuring a sturdy center handle and a removable should strap, this bag is perfect for your commute to the office and is even roomy enough to transport your gym clothes in style. 
There is an exterior pouch you can use for a water bottle, zippered interior and exterior pouches, and the large main pouch which you can use for your laptop or anything else you'd need for a day at the office (or a day out of the city). While there are plenty of bags with more compartments and features, none of them look as good as this classic brown leather duffle bag from Cole Haan. If you truly want to make an impression, this is one of the best men's leather bags for work we've come across.
Best bargain option: NEWHEY Leather Waxed Canvas Briefcase
With hundreds of rapturous online reviews, one of the best-reviewed bags on this list also happens to be one of the cheapest. This retro-looking leather men's bag looks like an antique but also comes equipped with a removable shoulder strap that quickly turns it into a convenient messenger bag. Made from cowhide leather and waxed canvas, this bag is waterproof and comes equipped with a whopping nine pockets, including a padded inner laptop sleeve that can accommodate a laptop up to 15.6". 
Perfect for your daily work commute or a weekend out of town, this bag has everything you need to bring your portable office on the road with you. Best of all, it also costs a fraction of what most leather bags run, making this one of the best men's leather work bags for those on a budget (or those who just love a good deal).
Best mid-price option: FRYE Logan Leather Briefcase
If you're serious about picking up a men's leather work bag but don't necessarily want to jump right in with a high-end model, this mid-priced Logan leather briefcase from FRYE should do the trick. Made from soft Italian leather and available in striking brown leather, this bag has the look of a luxury professional briefcase with the ease-of-use of a messenger bag via its removable shoulder strap. 
The bag comes complete with a pair of sturdy top handles if you want to carry it like a briefcase, interior and exterior zippered pockets, and a padded laptop sleeve for models up to 13". While this won't be an option for those with larger laptops, if you have an average-sized laptop and are in the market for a professional leather work bag that won't break the bank, this is one of the best men's leather work bags for the money.
Best full-grain leather option: Shinola Computer Brief
If you want a top-tier full-grain leather bag, this slim yet eye-catching bag from Shinola is a great option. Made from premium full-grain leather for a soft and supple look and feel, this bag is perfect for your daily commute and also serves as a perfect business travel bag. You'll get a padded interior pocket to securely store a laptop up to 15", along with three open interior pockets to keep all your accessories organized and accessible when you need them in a hurry. 
You can carry this bag by its included handle for a briefcase-like look, or snap on the removable strap for a messenger bag style and go hands-free (a handy feature for those who bike to work). With silver-toned hardware that beautifully accents the rich full-grain leather, this is an attractive work bag that truly lets the leather shine. As an added bonus, the leather will look even better once it has a chance to break in, ensuring your bag will look great for years to come. That alone makes this Shinola bag of the best men's leather work bags on the market.
Frequently Asked
Questions
Full-grain leather is the highest quality leather for men's work bags, but it is also by far the most expensive.
Top-grain leather is one step below full grain but still offers the luxurious feeling of high-quality leather. Top-grain leather is also easier to clean and better at repelling stains, making it a great choice for a men's work bag that will look great for years to come.
Depending on the quality of the leather and the bag construction, a men's leather work bag should be very durable and should last for years.
Bags made from full-grain and top-grain leather are quite durable, while cheaper bags made from "genuine leather" will break down quicker over time given the flimsiness of the material.
That said, genuine leather bags are considerably cheaper, so you may prefer to simply replace your bag every few years rather than shell out for a higher priced full or top-grain leather bag.
Higher end department stores are a great place to start looking for leather work bags, as they generally carry models from a number of brands.
Ideally, you want to be able to touch and examine a leather work bag in-person before you commit to a purchase. However, since most sites have fairly generous return policies these days, you can also purchase leather work bags at most men's fashion sites or even through Amazon. If you're planning on buying online, just be sure to verify the type of leather used in the bag construction, and always read through the reviews to be sure you know just what you're buying.